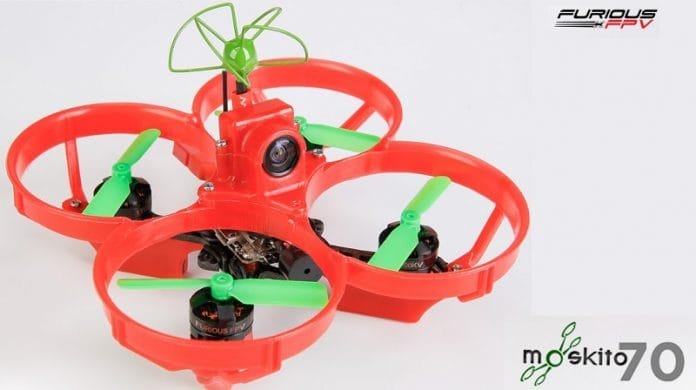 In my opinion, thanks to the nice red/green contrast, the Furious Moskito 70 has one of the coolest design among the many ducted propeller drones.
The Moskito 70 is an Uber small and lightweight brushless FPV racing quadcopter. Due to the powerful 10.000kv brushless motors it is suitable not just for indoor flights but for outdoor flights as well.
Featuring the versatile F3 flight controller, the Moskito Whoop is capable for multiple flight modes. While "Acro" mode is recommended only for experienced pilots, "Angle" mode is appropriate for beginners.
Designed with an ultra small footprint for the tightest of spaces, the Moskito is at home indoors and out, ready to mix it up in micro FPV mayhem. And with an excellent camera and dipole antenna system for light weight, the Moskito 70 is built to thrill wherever you fly, making any locale an insane FPV experience you won't soon forget. Looking for the ultimate in micro brushless performance? With the Moskito 70, Furious FPV has brought forth the ultimate BTF solution to your micro quad addition – the only itch you'll ever want to last. Source: http://furiousfpv.com/
Definitely, priced for $250, the Furious Moskito 70 is not one of the cheapest alternative for the popular Tiny Whoop mini FPV drone. Especially that the manufacturer doesn't include any radio controller (transmitter) in the package.
Furious Moskito 70 features and specs
Extremely compact brushless FPV racer;
Strong plastic injection Prop Guards for Ultra Durability (Whoop design);
Versatile F3 flight controller with multiple flight modes;
Full Telemetry SBUS with HUB telemetry;
Up to 1km control range via LR1000 receiver;
Full FrSky Compatibility;
7A Ultra Light BLHELI-S DShot 300 Compatible ESC's;
Micro beeper (buzzer);
5.8G 25mW 5.8GHz 40CH VTX.
As you can see in the image above, the 25mw VTX camera is well protected by the mounting frame. Thanks to the green color and unique design, the LHCP circular antenna looks pretty nice on top of the Furious Moskito 70mm drone.
Moskito 70 drone – Main parts – Package content
70mm carbon fiber frame with large ducted propeller protectors;
Optional radio receiver (FrSky or Spektrum);
FuriousFPV RACEWHOOP brushless F3 flight controller;
FuriousFPV 1102 10.000kv brushless motors;
Super light weight 7A brushless BLHELI-S DSHOT 300 ESC;
2 sets of 45mm 2-blade propellers;
5.8G LHCP circular antenna (FPV);
FuriousFPV LR1000 long range micro receiver;
25mW 5.8GHz 40CH including Raceband VTX with detachable camera;
Battery holder.
Additionally you will need at least one flight battery (2S 250~400mAH) and compatible radio transmitter.