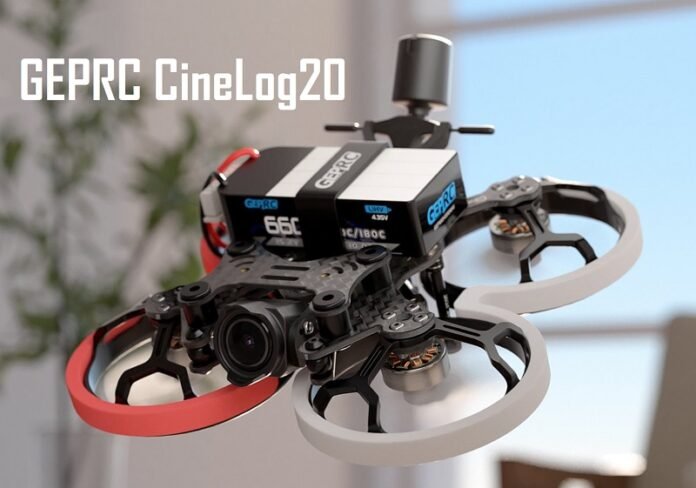 GEPRC's smallest CineWhoop-style FPV drone, the CineLog20, comes with four FPV system options. You can opt for DJI O3 Air Unit, Walksnail Avatar Micro, RunCam Link + WASP, camera, or 600mW 5.8GVTX + Caddx Ratel2. The price is from $200 to $480.
CineWhoop drones, also known as cinematography drones, are a specialized type of FPV drones designed specifically for aerial photography and videography. The GEPRC CineLog20 adopts a pusher design (inverted motors), and it comes with a camera mount that adopts a vibration-dampening structure. It can be equipped with an SMO 4K, Naked GoPro, or other lightweight 4K cameras.
The CineLog20 is among the first 2″ drones equipped with a DJI O3 Air Unit. This digital HD system is designed for professional aerial photography and videography applications, providing users with a high-quality, reliable, and efficient solution for capturing 4K onboard recording. The system is compatible with the DJI FPV remote controller V2. It features advanced Ocusync 3.0 technology, which provides low latency and high-quality video transmission, as well as a reliable and long-range connection between the drone and the controller.
It adopts GEPRC SPEEDX2 1303.5 5500KV motor and GEP-F411-35A AIO. Equipped with Emax 4-blade propellers, a reasonable and efficient power system makes the CineLog20 very quiet and has a long battery life, making your flight and shooting more assured.
Five Key Features
[Four FPV options] Provide mainstream Link Wasp, O3 AIR Unit, and Walksnail HD video transmission versions, Bind-N-Fly to save the trouble of building and tuning.
[Smooth footage] Designed to mount a shock-absorbing gimbal under the independent FPV camera to reduce jello of FPV Goggles image, with a good anti-shake effect. Continuing the vibration-dampening structure of the CineLog series, which can effectively eliminate the jello of the image caused by the body when flying with a Naked GoPro mounted.
[Pusher design] 2-inch pusher design, small size and lightweight, more suitable for complex and narrow environments flight shooting.
[Powerful propulsion system] SPEEDX2 1303.5 5500KV motor with Emax four-blade propellers makes the flight shooting unhurried.
[Pre-Tuned] The GEPRC Team's splendid tuning and overall flight feel are delicate and flexible.
Technical specifications
Wheelbase
10mm
Thickness
Gimbal plate: 2.0mm
Top plate: 2.5mm
Bottom plate: 1.5mm
Flight controller system
GEP-F411-35A AIO
– MCU: STM32F411CEU6
– Gyro: ICM 42688-P
– OSD: Betaflight OSD w/AT7456E chip
– ESC: 8Bit 35A
Motors
GR1303.5 5500KV
Propellers
EMAX Avan Micro 2×2.4×4
RX options
ELRS2.4G, TBS Nano RX, FrSky R-XSR
Battery
LiHv 4S 450mah-660mah
FPV system
DJI O3 Air Unit
Walksnail Avatar Micro
RunCam Link + WASP camera
600mW 5.8GVTX + Caddx Ratel2