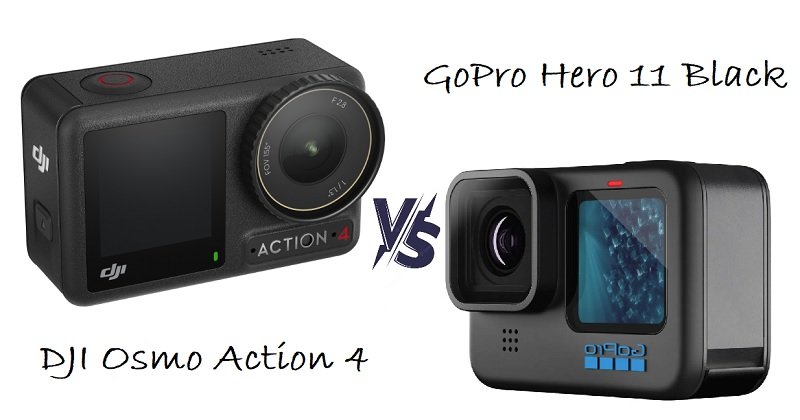 Action cameras are a must-have accessory for adventurers, social media influencers, and FPV drone owners. In 2023, the best options are the recently released DJI Action 4 and the GoPro 11. Both action cams can shoot high-quality, stabilized cinematic video in any outdoor condition, but they have a few key differences that set them apart. Let's discover them in this in-depth comparison guide!
These two action cameras have a similar size and design, a large forward-facing lens (with a replaceable protector), and front and back LCD screens. Both rear screens are touchscreens, but only OA 4's front screen is touch-sensitive. Both cameras are intended for extreme sports enthusiasts, and they have a rugged design that's built to withstand knocks and bumps. While the Osmo Action 4 can be immersed under water for up to 18 meters without a dedicated case, the Hero 11 Black only up to 10 meters.
DJI's latest action camera packs a massive 1/1.3-inch sensor, outperforming its predecessor and its biggest competitor. Usually, a bigger sensor means better low-light performance allowing shooting during the night without adding too much ISO noise.
The GoPro Hero 11 Black wins regarding video resolutions and frame rates, allowing you to shoot at up to 5.3K@60fps and up to 240fps in 2.7K. By comparison, the DJI Action 4 stops at 4K#120fps, and you'll need to drop down to 1080p for 8x slow-motion recording. The OA4 has 130 Mbps video bitrate on paper, and the HB11 only 130 Mbps. Both cameras feature electronic image stabilization -DJI names it RockSteady 3.0 and GoPro HyperSmooth 5.0.
It's quite complicated to measure and compare the battery life of these cameras. Many factors affect runtime, including resolution, frame rate, stabilization mode, LCD ON time, and outdoor temperature. The Osmo Action 4 has a slightly larger battery at 1770 mAh compared to the Hero 11's 1720 mAh. DJI's newest action camera promises 160 minutes of continuous usage, and GoPro's latest model 137 minutes.
GoPro 11 versus DJI Action 4 in-depth comparison table
In the table below, I compared the most important specs of these two top action cameras. I highlighted red where the new DJI Action 4 excels and green where the GoPro 11 shines.
DJI Action 4
GoPro 11
Image sensor size

1/1.3-inch

1/1.9-inch
Effective pixels
10MP

27MP

Field of view (FOV)
155°
Wide
Video resolutions
4K: 3840×2160@120fps
2.7K: 2688×1512@120fps
1080p: 1920×1080@240fps
5.3K: 5312×2988@60fps
4K: 3840×2160@120fps
2.7K: 2688×1512@120fps
1080p: 1920×1080@240fps
Max video bitrate

130 Mbps

120 Mbps
10-bit video mode
Yes
Yes
Slow Motion
8x at FHD 1080p
8x at FHD 1080p
Digital zoom
Up to 4x
Up to 4x
Stabilization
RockSteady 3.0
RockSteady 3.0+
HorizonBalancing
HorizonSteady
HyperSmooth 5.0
Screens
Front: 1.4-inch
Rear: 2.25-inch
Front: 1.4-inch
Rear: 2.27-inch
Waterproof

18 meters

10 meters
Battery
1770 mAh
1720 mAh
Operation time

160 mins

137 mins
Connectivity
Wi-Fi + Bluetooth
Wi-Fi + Bluetooth
Dimensions
70.5×44.2×32.8 mm
71.8 x 50.8 x 33.6 mm
Weight
145g

127g

Release date
02 August 2023
14 September 2022
Price
USD $399
USD $399
Final Thoughts
As they have the same price, when determining whether to choose the new DJI Action 4 or the GoPro 11, your decision should be made on brand loyalty and aspects of a camera that are of utmost importance to you. For example, if you are looking for an action camera for watersports, the OA 4 can be immersed in water at depths almost double that of its rival. The Action 4's bigger sensor can capture more light, making it the best action camera if you want to shoot in low-light conditions
On the other hand, GoPro 11 has a higher resolution image sensor (27MP vs 12 MP) and is capable of 5.3K video recording with up to 60fps.