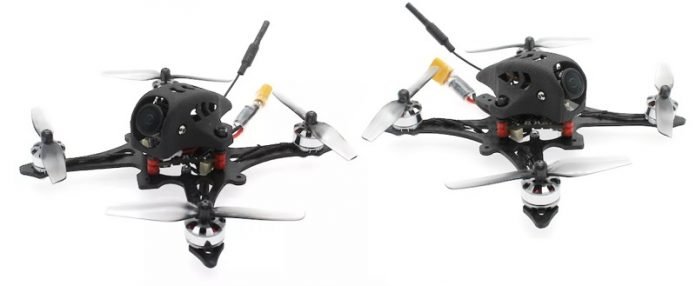 While in 2018 most micro FPV drones have followed the ducted design of the epic Tiny Whoop, in 2019 many manufactures switched to the lighter toothpick design. Built for speed, the HBRC FF65-GT drone is equipped with 2-leaf propellers (2.5″/65mm). All the electronic parts are well protected by a plastic canopy.
According to your existing transmitter you can opt for DSMX, FlySky FS-RX2A, FrSky Pro D8 or FUTABA SFHSS AC900 radio receiver. HBRC FF65-GT is also available in PNP package (without receiver).
HBRC FF65-GT drone core features
108mm size carbon fiber frame with protective canopy;
2.5 inch (65mm) propeller compatible;
All-in-one F4 flight controller with built-in BetaFligt OSD;
12A ESC (2-4S) BLHeli_S 4in1 DShot600;
MP03-7000KV brushless motors;
Caddx EOS2 1200TVL camera;
5.8G/48CH FPV transmitter with IRC Tramp and up to 200mW VTX power;
2-3S LIPO compatible (GNB 3S 300mAh or GNB 3S 350mAh suggested);
Optional DSMX, FlySky FS-RX2A, FrSky Pro D8 or FUTABA SFHSS AC900 receiver.
Closer look on HBRC FF65-GT main parts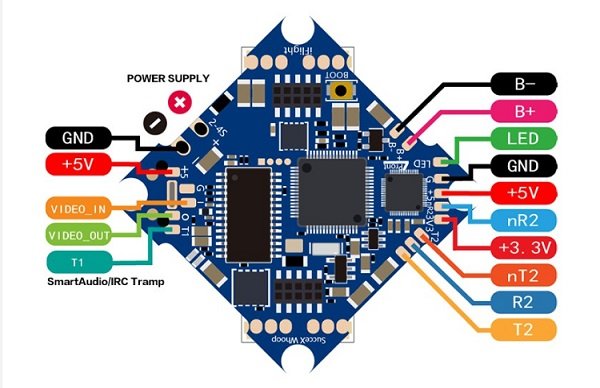 Flight controller specs
Input Voltage: 2S-4S;
MCU: F411;
Gyro: ICM20689;
OSD: AT7456E;
Blackbox: 8MB;
BEC: 5V/2A;
Uart: 2x UART ports;
Telemetry: Yes;
Soft-serial: Yes;
Current Meter: Yes (Current Scale: 210);
Firmware Target: STM32F411 (4.0.2);
Size: 28.5×28.5mm (25.5×25.5mm/M3 mounting holes);
Weight: 6.1 grams.
IF412V-ESC specs
Built-into the flight controller;
Input Voltage: 2S-4S;
MCU: BB21F16G;
BLHeli: BLHeli_S;
Continuous current: 12A;
Peak Current: 13A(3 seconds);
Protocol: PWM, Oneshot125, Multishot, DShot150/300/600, etc.
IF412V-VTX specs
Input Voltage: 5V;
Antenna: IPEX(UFL);
OSD Protocol: IRC Tramp;
Power: Pit/25/100/200mW;
Channel: 48CH;
Size: 26 x 19 mm;
Weight: 2 grams.