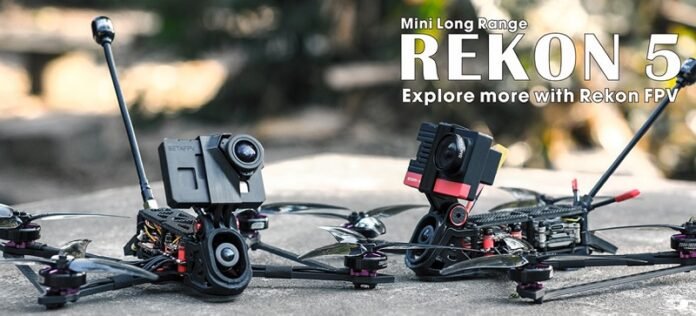 HGLRC is the first drone manufacturer that introduces failsafe insurance for long-range FPV drones. The Rekon 5 MINI is their inaugural product which can be purchased in a bundle with this premium service. You can opt for 3 or 6-month insures. In case you lost your drone during a flight and you can prove it with DVR footage, you can get a new one for half of the original price.
The HGLRC Rekon 5 MINI LR is available with an analog or digital FPV system. While the analog version comes equipped with Caddx Ratel V2 FPV Camera and Zeus VTX 800mW VTX, the digital edition with CADDX Nebula Pro and Vista HD VTX. The price difference between the two versions is more than 100 bucks ($225.99 vs $335.99 check price at Banggood). Both editions are available in 4s (3000KV motors) and 6s (1800KV motors) power options. There is also an option to purchase a bare frame kit for those who want to build their own long-range Rekon drone.
Of course, the value of the insurance is depending on the price of the drone. For example, the 6-month insurance for the HGLRC Rekon 5 Analog will cost you $29.99, and for the HGLRC Rekon 5 Digital $41.99.
Just like the Sector 5 V3, the Rekon 5 also comes equipped with the ultra-light M80 GPS module. If everything set up correctly, the drone will autonomously return to the take-off point in case you fly out of the controller's range. RTH can be manually triggered from the transmitter as well.
HGLRC Rekon 5 MINI features and specs
First Long-Range FPV drone with optional fail-safe insurance;
210mm size ultra-light carbon fiber frame based on the original Dave_C FPV MiniLongRange design;
Digital and Analog FPV versions:

Caddx Ratel V2 FPV Camera and Zeus VTX 800mW VTX
CADDX Nebula Pro and Vista HD VTX

Zeus F722 mini flight controller;
Zeus 30A BL32 3-6S 4in1 ESC;
2004 1800KV(6S) or 3000KV (4S) brushless motors with GEMFAN 5125 5″ 3-leaf propellers;
M80 GPS module;
Soter FPV drone buzzer;
Optional Crossfire Nano and FrSky R9MM OTA radio receiver;
Included 3D printed TPU naked GoPro camera mount.
HGLRC recommends to power their 4S Rekon drone with an 850-1800mAh battery or the 6S version with a 550-1300mAh LIPO pack. They claim that both versions are compatible with 3000mAh batteries if you are looking for maximum flight time.
By default, it comes with an included Naked GoPro mount, but I'm sure that can be equipped as well with the easy to use SMO 4K camera.
Terms & Conditions for Rekon FPV Failsafe Insurance
Insurance only applies to the quads purchased at Rekonfpv.com;
It has to be purchased at the same time with your quad;
You will receive a comparable quad but it might not be the exact same due to product updates and availability;
Service is limited to the original owner and complete loss or destruction of the quad during intended use;
Offer not valid for damage caused by a 3rd party;
We reserve the right to withhold the service if we believe that the crash has been caused purposefully, by gross negligence and/or did not result in loss or destruction;
Video/DVR footage of the crash/loss and a brief description of the incident must be provided;
It is not possible to change to a different model.
Product photos