Like most CineWhoops, the HGLRC Veyron is also build on a 3 inch frame with large ducted blade protectors. This design approach allows you to capture super smooth cinematic footage. Another advantage of the Whoop protectors is that you can fly around people relatively safely.
HGLRC announced the Veyron 3″ with two power options. While the 4S version comes with 3600KV motors, the 6S edition with 2400KV one. Both editions come with same ZEUS35 flight controller with integrated 35A ESC. In order to set the best center of gravity, the LiPo pack can be mounted vertically or horizontally.
In addition to the on-board Caddx Ratel camera you can install a second GoPro style 4K camera. The real-time image transmitter is achieved by using an up to 600mW VTX board. Update March 3: There is a new version of this drone, with comes with Caddx Vista HD Digital System.
HGLRC Veyron highlights
Durable 3″ carbon fiber frame (136mm wheelbase) with large Whoop style EVA pipe blade protectors;
Enough powerful to carry a GoPro style action cam;
Battery can be installed along the main axis or perpendicular on this one;
TPU landing gears;
ZEUS35 AIO flight controller w/ integrated 35A ESC;
Forward 1408 3600KV (4S) or 2400KV (6S);
Caddx Ratel FPV camera w/ 2.1 mm lens;
Forward MT Mini VTX with up to 600mW output power;
Optional FrSky XM+ or FS-A8S V2 radio receiver;
4S and 6S power options;
Lightweight (only 244.8 grams without GoPro mount).
HGLRC Veyron 3″ details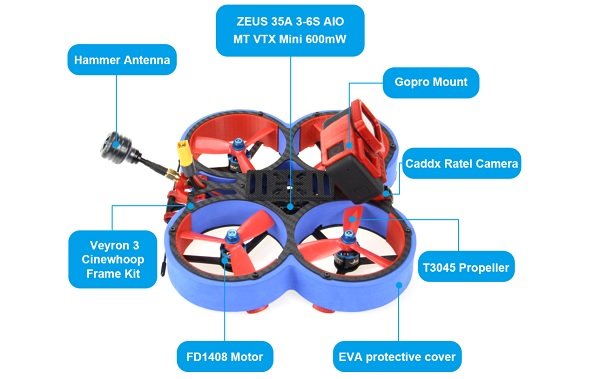 ZEUS 35A 3-6S AIO Flight controller specs
Input Voltage: 3-6S;
FC Firmware: BF HGLRCF411(HGLR);
ESC Firmware: BLS;
Dimensions: 40 x 32 mm;
Weight: 9.8 grams;
Forward MT Mini VTX specs
Max power: 600mW;
Input: DC 5V;
Antenna: IPEX;
Dimensions: 25.6 x 29.0 x 5.8 mm;
Weight: 3.9 grams.
Update: I was just contacted by Fitz from hglrc.com, it looks they want to send me a free sample for review :)