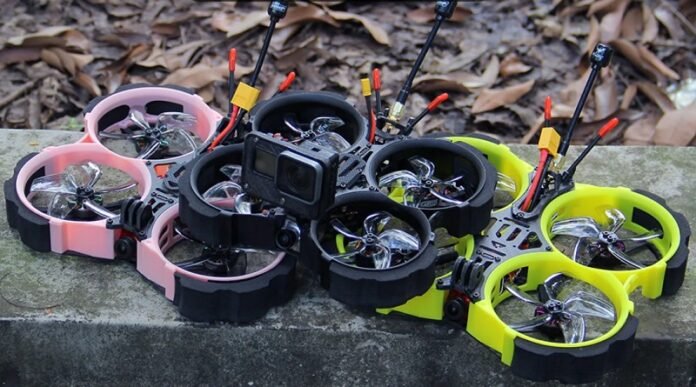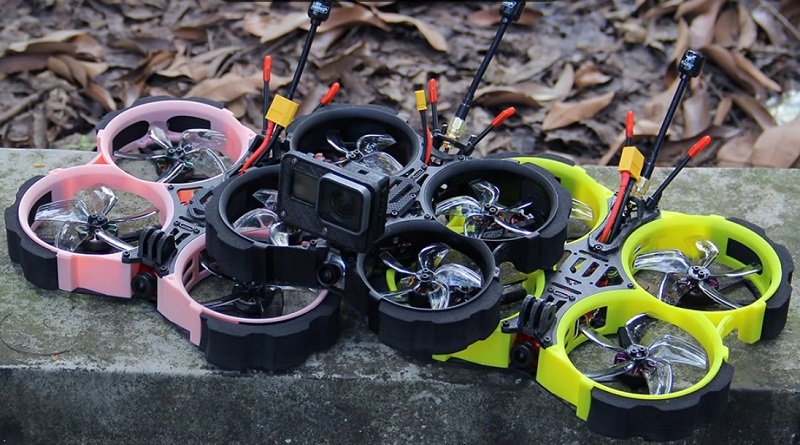 Following the great success of the Veyron3, HGLRC brings on the market two upgraded versions named Veyron30CR and Veyron25CR. While the 30CR has a wheelbase of 120mm and 2.5″ propellers, the bigger 30CR has a 140mm wheelbase and 3″ prollers. For improved impact resistance, the corners of the duct protectors are foam-padded. Both size options are available in 3 colors. According to your budget, you can opt for analog or digital FPV.
HGLRC equips their VeyronCR HD drones with the latest Caddx Polar camera, which is the first starlight digital camera. The larger Veyron 30CR HD has a Caddx Air Unit onboard. By default, the digital edition is compatible with the DJI FPV transmitter.
The analog Veyron 25CR and 30CR have a Caddx Ratel 2 camera and a Zeus Nano VTX with up to 350 mW broadcast power.
HGLRC Veyron30CR & 25CR features
Carbon fiber frame with Whoop EVA duct protectors;
Two size options (2.5″ – 120mm and 3″ – 140mm);
Veyron 30CR has two power options (4s and 6s);
5.8GHz Analog and HD Digital versions;
Digital version comes with latest Starlight Caddx Polar camera;
3 color options (black, yellow, and pink);
Can carry a Naked GoPro, SMO 4K, or Insta360 Go camera;
Optional FrSky XM+, R-XSR, R9MM, FlySky A8S V2, or Crossfire Nano radio receiver.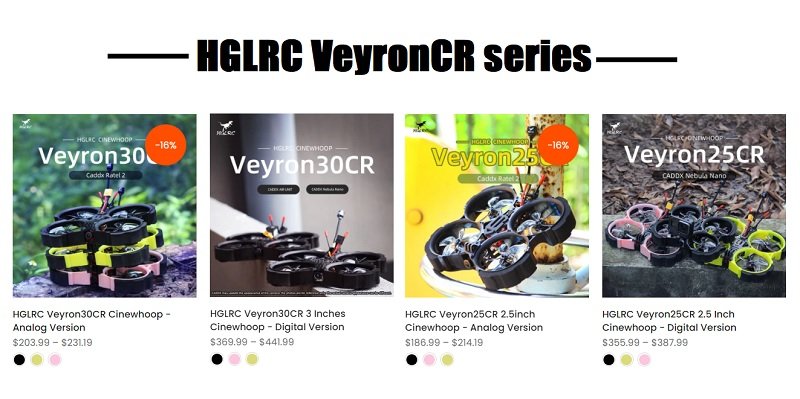 HGLRC VeyronCR series specs comparison
Veyron25CR
Veyron25CR HD
Veyron30CR
Veyron30CR HD
Frame
120mm
120mm
140mm
140mm
Weight
189.7g
198.5g
243.4g
251g
Flight controller
Zeus F722 mini
Zeus25 AIO
Zeus F722 mini
Zeus F722 mini
ESC Power
28A
25A
28A
28A
Motors
AEOLUS 1404 3600KV
AEOLUS 1404 3600KV
AEOLUS 2004 3000KV (4S)
AEOLUS 2004 1800KV (6S)
AEOLUS 2004 3000KV (4S)
AEOLUS 2004 1800KV (6S)
Propellers
D63 2.5″ 5-leaf
D63 2.5″ 5-leaf
D76mm 3″ 5-leaf
D76mm 3″ 5-leaf
VTX
Zeus Nano 350mW
Caddx Vista
Zeus Nano 350mW
Caddx Air Unit
Camera
Caddx Ratel 2
CADDX Polar
Caddx Ratel 2
CADDX Polar
Battery
4S:650mah-850mAh
4S:550mah-850mAh
4S:750mah-1300mAh
6S:750mah-1000mAh
4S:750mah-1300mAh
6S:750mah-1000mAh
Price (PNP)
$186.99
$355.99
$203.99
$369.99