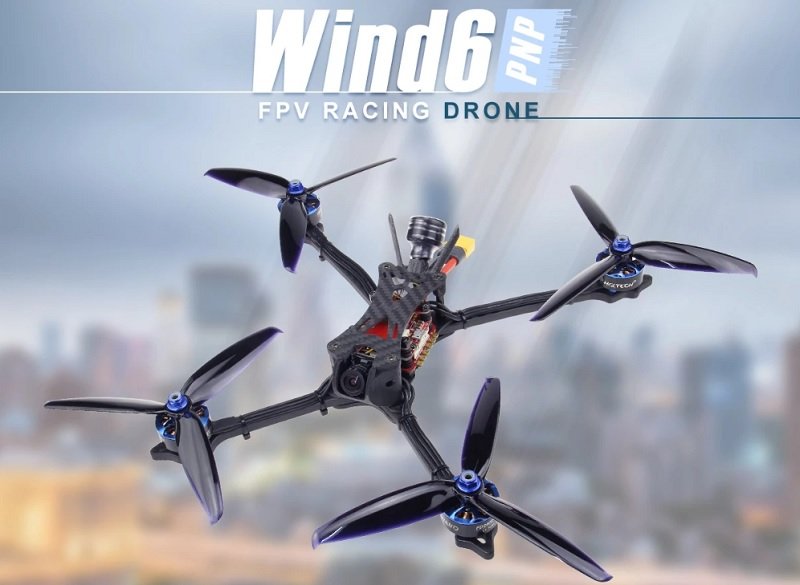 HGLRC's new long range FPV racing drone will be available with two power options. While 4S version has FD2408 2500KV motors, 6S edition features FD2408 1700KV motors. Both HGLRC Wind6 variants are equipped with the same 65 A electronic speed controller (ESC) and 6 inch GF6042 propellers.
Wind6 uses the latest high performance FD765 flight controller stack for a safe and reliable Freestyle and racing flying experience. According to your existing transmitter you can opt for FlySky FS-A8S V2 or FrSky XM+ radio receiver.
In front of the drone is located a AURORA V2 FPV camera. The wireless video transmission is achieved using a 5.8G VTX with 48 channels. Featuring adjustable broadcast power, you can toggle between 25, 50, 100, 200 or 400 mW even remotely via BetaFlight OSD.
HGLRC Wind6 core features
Robust 267 mm size carbon fiber frame w/ 6mm arms;
F7 Dual Flight Control;
65A 3-6S L431 BLHeli_32 4in1 ESC;
FD2408 2500KV (4s) or FD2408 1700KV (6s) brushless motors;
GF6042 3-leaf 6 inch propellers;
AURORA V2 1200TVL camera;
5.8G/48CH video transmitter ( PIT/25mW/50mW/100mW/200mW/400mW VTX power);
Optional FlySky FS-A8S V2 or FrSky XM+ radio receiver;
4s or 6s power option available.
Closer look on HGLRC Wind6 main parts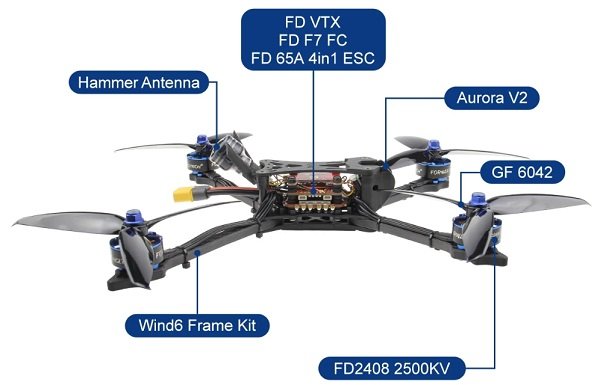 FD F7 Dual Flight Controller specs
MPU: ICM20608 (32K) & MPU6000-SPI;
CPU: STM32F745VGT6, 32K+16K;
Input Voltage: 3-6S Lipo;
Built-in Betaflight OSD to adjust PID;
BEC Output: 5V@3A, 8V@1.5A ;
LED Output: 5V@3A;
Size: 37×37 mm with 30.5 mm mounting holes;
Weight: 10.2 grams.
FD 65A 3-6S L431 ESC specs
4-in-1 design;
CPU:STM32L431;
Input Voltage: 3-6S Lipo;
BLHELI32 Firmware;
Steady Current: 65A;
Peek Current: 75A;
BEC: NO;
Supported Protocols:
DSHOT1200/600/300/150.ONESHOT125/42.MultiShot protocols;
Size: 46x45x6mm;
Weight: 23.6 grams;
Video transmitter specs
Output power: PIT/25mW/50mW/100mW/200mW/400mW;
Frequency: 5.8GHz 6 bands 48 channels.with Raceband: 5362-5945 MHZ;
Control mode: BFOSD control(RX)/button;
Input: DC 7-28V;
BEC:5V-1A;
Video system: NTSC/PAL;
Antenna: MMCX;
Size: 36x36x5mm with 30.5*30.5mm mounting holes;
Weight: 5.2 grams.

AURORA V2 1200TVL FPV camera specs
Image Sensor:1/2.7 " 1200TVL CMOS;
Lens: 2.1mm;
TV System: PAL/NTSC Switchable;
S/N: > 50dB;
Min. illumination: Color: 0. 05Lux; BW: 0.001Lux(F1.2,50IRE,AGC ON);
WDR: Support;
Lanuage: Chinese/English/Italian/Russian;
OSD programming board: Support;
Input Power: DC 5V-30V;
Dimensions: 19mm*19mm*27mm;
Weight: 8.9 grams.
Motors