The HITORQUE Eagle ONE looks like any regular drone but with multiple front cameras. It has a 2-axis gimbal 4K camera under the nose and 3 more built-in optics in the nose. According to the advertised specs, it can detect objects in front of 8 meters and avoid collisions.
Being powered by a 3cell 3400mAh battery can stay in the air for up to 30 minutes. The modular LIPO pack can be easily replaced with a freshly charged one. It has 5 charging level indicator LEDs and a micro USB charging port. On paper, the control range of the Eagle ONE is up to 2Km, and the WIFI FPV range about 1.5 KM.
The main camera can record 3840x2160P videos on the onboard micro SD card or 1920*1080 videos on the phone's internal memory. Thanks to the 2-axis gimbal, remotely adjust the camera's angle from front view to ground view.
Eagle ONE drone features and specs
Backpack friendly folding design (19×9.5×7.5cm);
Advanced obstacle avoidance system;
Dual-Positioning system (GPS+OFP);
Intelligent flight modes (Smart tracking, Point of interest, and Waypoints flights);
Precise GPS assisted auto-return to home (RTH);
UHD camera with 2-axis gimbal;
3840x2160P (4K) video and 5700×4275 (6K) photo resolution;
On-board recording (micro SD slot);
WIFI real-time image transmission (FPV);
About 2KM control range;
Up to 30 minutes of battery life.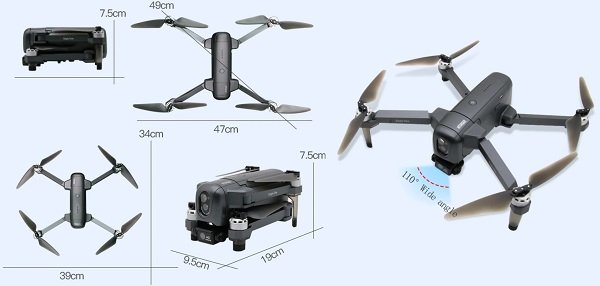 Included accessories with the Eagle ONE drone
11.4V 3400mAh LIPO battery (1, 2 or 3);
Remote Controller with phone holder;
USB Charging Cable;
Pair of spare blades with screws;
Optional storage bag;