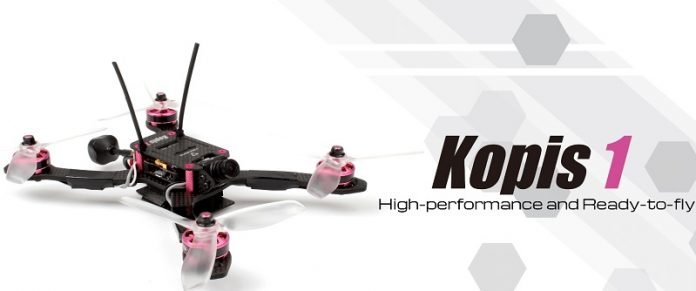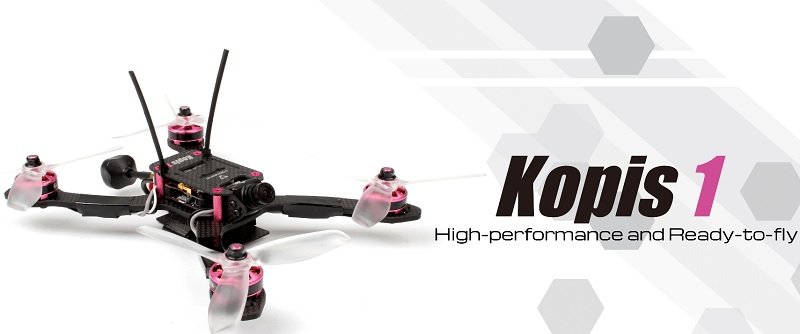 Kopis 1 is a high-performance and ultra-durable FPV racing quadcopter from Holybro. Its low-profile design allows centralized weight which means excellent stability. Holybro Kopis 1 features "Stretched-X" motor layout, highly adopted by professional racing drones. This approach eliminates the influence ("dirty air") of the rear propellers over the front blades.
Build around the Holybro Kakute F4 all-in-on flight controller, the Kopis 1 drone features multiple flight modes. BetaFlight OSD is included, allowing to remotely monitor your battery level and to change PIDs and Rates.
Sponosored AD
In order to allow great balance between raw speed and flight time, the manufacturer opted as propulsion system for the AIR40 2450kv brush-less motors from T-Motor and 3-blade 5045 propellers.
Instead of developing their own FPV camera, Holybro opted to use one from RunCam. The Swift 600TVL is an excellent low-latency camera for FPV flights (check my review here: https://www.firstquadcopter.com/reviews/runcam-swift-camera-review/).
As you can see in the image above, the Holybro Kopis 1 comes with secondary camera plate. This allows to mount a GoPro or alike camera in order to record the journey of your flight in HD or even 4K.
Holybro Kopis 1 features and specs:
X-shape ultra durable (5 mm thick) carbon fiber frame;
Versatile F4 flight controller with integrated BetaFlight OSD;
Multiple flight modes (including free-style);
Remote battery level monitor and PIDs adjustment;
40CH, 5.8G VTX with adjustable broadcast power (15mW, 25mW, 100mW, 200mW, 400mW and 600mW);
RunCam Swift camera with angle adjustment;
Programmable LED board;
Built-in sound buzzer;
300g total weight without battery.
The top notch features and hardware are not cheap at all, the Holybro Kopis 1 is advertised for $299 in bundle with Frsky XSR receiver.
Holybro Kopis 1 main parts and package content:
210 mm sized carbon fiber frame;
Kakute F4 AIO flight controller;
4 pieces of T-motor AIR40 2205 2450KV brushless motors;
4 pieces of 30A BLHeli_32 ESCs;
5.8G 40CH Atlatl VTX (video transmitter);
5.8 GHz antenna;
2 sets of 5045 3-blade propellers (4 x CW and 4 x CCW);
Battery strap;
GoPro camera mount / stand;
Status LED board with built-in buzzer;
Carrying case;
Unfortunately no flight battery included! Also nothing mentioned about which one you will need, a 3s or 4s one.