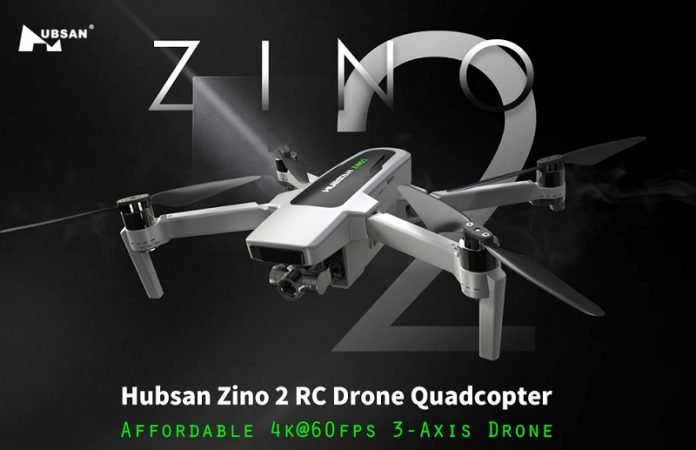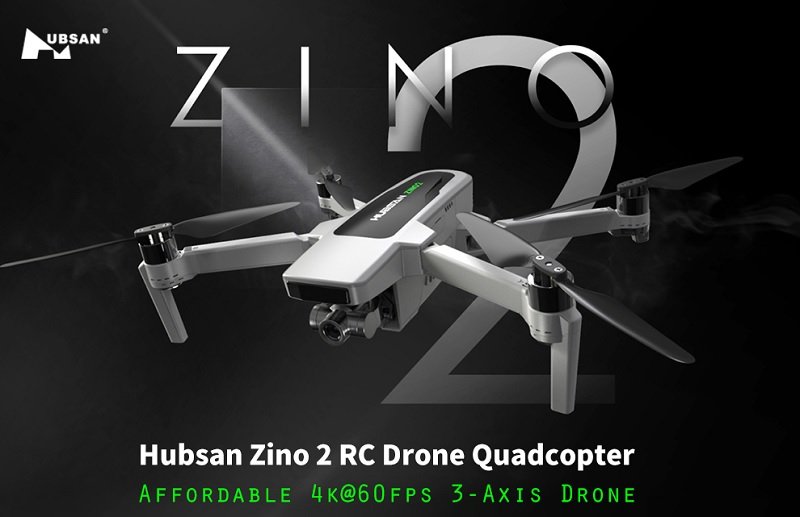 Hubsan's new drone, the Zino 2, follows the nice foldable design of its predecessor while brings some cool new features. Hubsan hasn't officially announced Zino2, but it hasn't done a great job of keeping it a secret, either. Today, FirstQuadcopter – Your favorite Drone News provider managed to reveal all the essential details about this very capable GPS 4K drone. Also, in order to make an in-depth Hubsan Zino 2 review, we already requested a testing unit.
Over the last two years, Hubsan has continuously upgraded its epic Zino series. Actually, even if it is named "Two", it is the 3rd generation Zino. In the beginning, it was the H117S (aka Zino I), then Zino Pro, and now the Zino II.
In addition to the extended control range (8Km vs 1Km) and longer flight time (33min vs 23min), the Zino Two comes with an upgraded camera which is capable to record 4K videos with up to 60fps. Yes, this is the feature we probably expected the most!
The new Hubsan Zino 2 measures about 32.6 x 26 x 9.49 mm and weighs almost 1Kg (915 grams). By comparison, it is 215g heavier than its predecessor (H117S) and four times as the DJI Mavic Mini. For sure, Hubsan didn't focus to be FAA friendly :)
Hubsan Zino 2 features & specs
Compact size with foldable arms;
Remote controller with built-in screen;
GPS positioning system;
Multiple flight modes (GPS, Optical Flow, or Alttittude);
4K camera with up to 60fps recording (100Mbps bitrate);
Sony 1/2.3″ 12MP CMOS image sensor (80° FOV);
Ambarella H22 image processor;
3-axis mechanical stabilization;
Up to 72 kph flight speed;
About 33 minutes of flight time (in windless conditions);
LEAS 2.0 transmission protocol;
Up to 8Km FPV range.
Price & Availability
As I previously mentioned, the global launch of the Zino Two will be on December 12. GearBest is between the first online retailers which listed it for pre-orders at $399.99 promotional price – valid for the first 1000 orders. Deliveries will start after January 3rd. Note: Regular price will be $499! Update: Price changed to $591 and order status "Arrival notice". It looks that they out of stock Update: GB has it again ready for order, this time for $591.90 with one battery and without storage bag.
Starting with Valentine's Day, Banggood also listed the Zino 2 for pre-orders. Using this coupon code "BGRCZINO2" you can have 10% discount – the regular price with one battery without a storage bag is $US 599.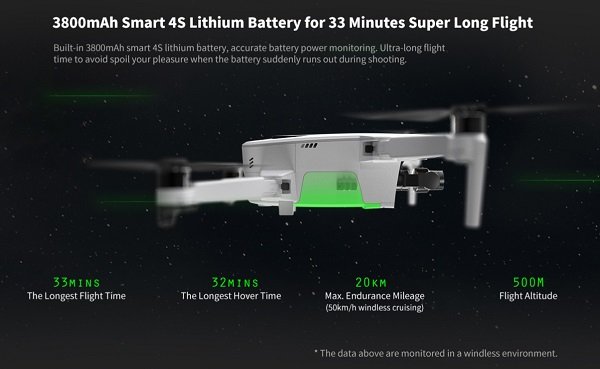 Remote controller
As you can see in the image below, the Zino 2 comes with an upgraded remote controller. In addition to the extended control range, it comes with an integrated LCD monitor. It is not clear yet if the status screen will provide live-view too or just flight data (flight time, flight distance, battery level, and GPS data).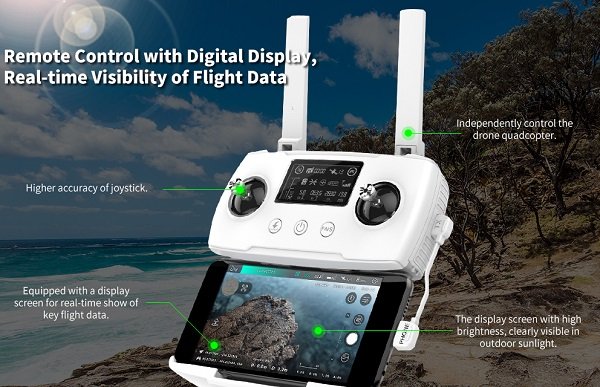 The controller comes with a built-in retractable phone holder. Your phone needs to be connected to the RC via the included USB cable. BTW, as Apple is thinking to give up on the charging/data port on the upcoming iPhone 12, this wired connectivity approach will be a big issue.
X-Hubsan 2 APP
The APP for Zino 2 was just published. The X-Hubsan 2 is available for both popular mobile operating systems (Android and iOS). Find below the main features of the APP:
GPS positioning function, keep track of the aircraft position;
Map navigation function, view map, and flight route planning;
Real-time HD image transmission, real-time flight telemetry display;
Online preview interface upgrade;
New editor features;
Flight playback, record the course of your flight;
Zino 2 vs Zino Pro vs H117S: Evolution of Hubsan Zino series.
| | | | |
| --- | --- | --- | --- |
| | Zino 2 | Zino Pro | H117s (Zino 1) |
| Size (mm) | 326 x 260 x 95 | 304 x 252 x 90 | 304 x 252 x 90 |
| Weight | 915g | 700g | 700g |
| Camera | 4K@60fps | 4K@30fps | 4K@30fps |
| Controller LCD | Yes | No | Yes |
| Range | 8Km | 4Km | 1Km |
| Max flight speed | 72 kph | 60 kph | 60 kph |
| Battery life | 33 minutes | 23 minutes | 23 minutes |
| Color | White | Black | White |
| Price | $399 | $299 | $235 |
Bottom line
If you are searching the market for a new drone with 500 bucks into your pocket, the Hubsan Zino 2 could be an excellent choice. It is probably the only GPS drone in this budget which features such versatile camera – most drones under $500 has only 30fps at 4K.
Official updates (02 January 2020) from Hubsan
"Glad to inform you that Hubsan will ship the Zino 2 to Gearbest before this sat for them to distribute to buyers. All our products undergo several stages of quality checks before we dispatch them. We can confirm that if you pre-ordered Zino 2 on Gearbest and your form of payment has now been charged, they are now moving in sequence through the orders placed on or after December 12th.
Thank you for your patience. We know it can be frustrating when a delivery date is uncertain. We trust we have taken sufficient measures to remedy this situation. Thank you for your understanding and patience. We will post further updates here and on our social channels."
Zino 2 videos
Range test
2. Low light performance
3. Active tracking features test
4. Hubsan Zino 2 max altitude test (500 meters)
5. Zino 2 firmware upgrade tutorial