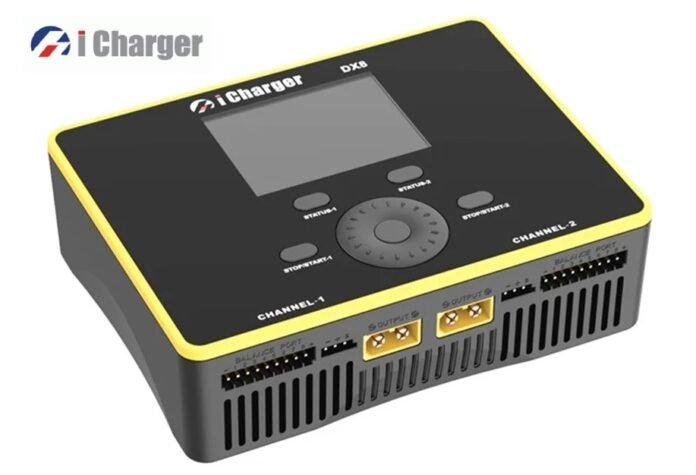 The upcoming iCharger DX8 is capable of charging simultaneously two up to 8S drone LIPO batteries. Each channel can charge/discharge with up to 30A. The DX8 Duo is capable to deliver a maximum power of up to 1600W.
On the input side, it can accept anything between 9 and 49 volts. To deliver the max power it requires an external DC power source of 65A (or 45A/channel).
In addition to the two 8S balance ports, it has two signal ports for debugging PWM and other devices. On the front panel, there is a 2.4-inch IPS full view color LCD display, 4 buttons, and a control wheel.
Price and availability
This high-power dual-channel LIPO charger can be ordered from Banggood for US$379.99.
iCharger DX8 charger highlights
Adopt advanced high-efficiency synchronous buck-boost (synchronous buck-boost DC / DC converter) technology, high power, high current, and high conversion efficiency. The maximum charging power is 1600W, the maximum charging and discharging current is 30a, and the maximum charging and discharging current of two-channel synchronous mode is 50A;
Support the balanced charging of 8 strings of Lipo, Lilo, life, LIVH, NiZn, and LTO (adopt the unique internal resistance correction balance algorithm and the maximum 2A balance current to ensure the rapid and accurate completion of the balance): support the charging of 1-25 strings of Ni MH and Ni-Cd batteries: support the charging of 1-15 strings of lead-acid batteries;
Realize the dual-channel adjustable digital power supply function (with protection functions such as overcurrent, overvoltage, input under-voltage, and input overcurrent);
With Type-C PD charging port, it is convenient for users to charge mobile phones and tablets;
Intelligent fan control. Through the internal temperature sensor, control the speed of the fan;
Internal temperature protection. If the internal temperature is greater than the attenuation temperature, the equipment will automatically reduce the output power: if it is greater than the shutdown temperature, it will automatically shut down.
This machine can save the parameter settings of 64 batteries and support data import/export on an SD memory card;
2.4-inch IPS full view color LCD display. Provide rich information display: current, voltage, electric quantity, power, internal resistance, control status, consumption time, temperature, etc;
Varied discharge functions: local discharge, Regenerative to input or another channel discharge, and lithium battery extended discharge function.
iCharger DX8 main specifications
Input Voltage: 9-49VDC
Max Input Current: 65A ( Channel 45A )
Max Charge / Discharge / DC Power Current: 50A ( 30Ax2 per channel)
Max Charge Power: 1600W ( Channel 1100Wx2 )
Max Discharge Power: 70W ( Channel 45Wx2 )
Max Regenerative Discharge Power: 1600W ( Channel 1100Wx2 )
Max Balancing Current / Cells: 4A ( Channel 2Ax2 ) / 8S
Type-C PD Charging Port: Support 5V / 3A , 9V / 2A , 12V / 1.5A
Battery Chemistry Type: LiPo, Lilo, LiFe, LiVH, LTO, NiZn, NiMH, NiCd, Pb
Dimensions ( LXWXH ): 97.5X128.5x40mm
Weight: 440g