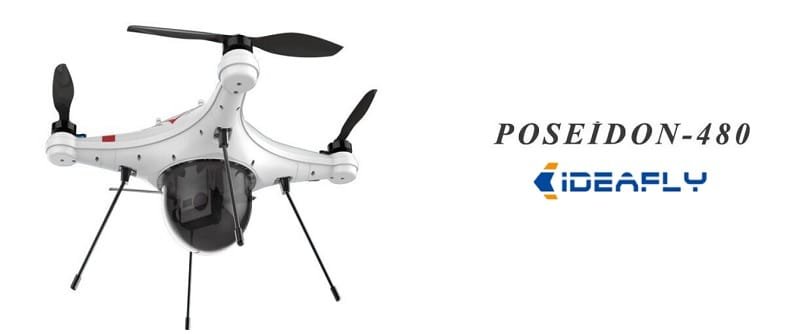 IdeaFly Poseidon-480 – Fisherman's best RC drone :D
I bet that every pilot is a bit afraid to fly above a lake or river with his precious drone. The IdeaFly Poseidon-480 is advertised with IP68 waterproof rating and the fact that it can safely land on a surface of water. Of course, without too big waves.
Unlike other waterproof drones that require a waterproof camera, the Poseidon-480 is suitable for any GoPro or alike camera. The bubble under its belly protects both brushless gimbal and camera when they are immersed under the water.
The included 10 channel transmitter allows about 500 – 800 control distance.
Unfortunately, in the manufacturer's specs there is nothing mentioned about the FPV (First Person View) system, so it is possible that is suitable only for LoS flights.
Thanks to the high-voltage (6s) Li-Po battery, the Idea-Fly Poseidon-480 has about 25 minutes of flight autonomy.
IDEA-FLY Poseidon-480 features and specs
IP68 waterproof protection;
Payload release mechanism (dropping system);
C6W-Pro V2 flight controller;
480mm diagonal rotor-rotor distance;
GPS positioning system;
0.5 – 1 meter hover accuracy;
Suitable for GoPro and alike quadcopter cameras;
Up To 25 flight autonomy;
Near 800 meters control range (open field).
Included with the Poseidon-480 drone
10CH Remote controller;
4500mAh flight battery (6s);
Balance battery charger;
Payload release \ dropping mechanism ;
Aluminum hard case.
Images with the IdeaFly Poseidon 480 quad