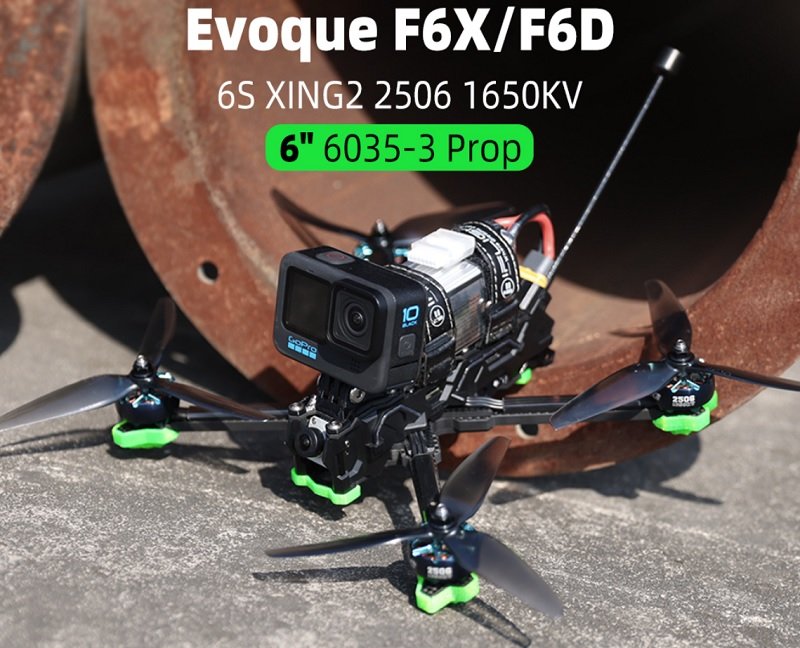 iFlight released two new 6-inches FPV drones for the GoPro 10 camera. While the Evoque F6X has a Squashed-X design, the Evoque F6D adopts "Deadcat" geometry. Both variants are available with an analog 5.8GHz FPV or DJI-compatible HD digital transmission system. While analog comes equipped with RaceCam R1 Mini camera 600mW 5.8GHZ VTX, HD digital with DJI FPV camera, and Caddx Vista VTX.
Both iFlight Evoque F6X and Evoque F6D features the same flight stack with BLITZ Mini F7 TwinG flight controller and BLITZ Mini 55A 4in1 ESC board. Its XING2 2506 1650KV motors are matched with 6″ 3-leaf propellers (6035 type).
Iflight's BLITZ Mini F7 TwinG FC features Gyro Fusion technology, modern USB type-C plug, 32MB flash for every tuning session, and 5 UARTs for whatever equipment you might possibly wanna use. Power from the gods with their new BLITZ Mini 55A ESC packed with better heat-dissipating Mosfets and a whole bunch of SMD capacitors to filter out possible motor noise, besides the pre-soldered directly installed Capacitor right next to your battery leads.
iFlight Nazgul5 Evoque F6 series features
Robust 6″ carbon fiber frame with two design options;
BLITZ Mini F7 TwinG flight controller with Gyro Fusion technology;
BLITZ Mini 55A 4in1 ESC board;
XING2 2506 1650KV motors with 6035 propellers;
Analog (RaceCam R1 Mini + 600mW 5.8GHZ VTX) or Digital (DJI FPV camera + Caddx Vista) FPV options;
360-degree illumination for day and night flights;
6S LIPO compatible;
Perfect for GoPro 10 cinematic videos.
Frame specifications
Wheelbase: 255.4mm (Squashed X) or 262.6mm (DeadCat)
Geometry: Squashed-X or DeadCat
Bottom to top distance: 28mmArm Thickness: 6mm
Bottom plate thickness: 3mm
Top plate thickness: 3mm
Upper(middle) plate thickness: 3mm
BLITZ Mini F7 TwinG flight controller specifications
MCU:STM32 F722
Gyro: MPU6000
Barometer: NO
Betaflight OSD: IFLIGHT OSD (AT7456E)
Blackbox:16MB
5 X UART ports

UART1 VTX HD/Analog
UART2 for Receiver
UART3 and UART4 for GPS or 0ther sensors that require a serial port
UART6 for ESC Telemetry

4×Dshot/PWM outputs
1xSH1.0 4Pin connector LED&Beeper (BUZ/LED/G/5V)
Smartaudio&IRCTramp VTX protocol supported
WS2812ledStrip: Yes
Beeper: Yes
Firmware: IFRC-BASEF4 4.X.X
Mounting:20*20mm/φ4
Dimensions:30.5*27mm
Weight:5.0g
BLITZ Mini 55A ESC board specifications
Supports 2-6S Lipo input
MCU: G071
Constant: 55 Amps
Burst: 60 Amps
Current sensor: Yes
BEC: No
Current rate: 100
Supports: DShot DShot150/300/600/MultiShot/ OneShot etc.
Firmware: BLHeli 32
Target: IFLIGHT_BLITZ_G1
Dimension: 35*42mm
Mounting Holes: 20*20mm/Φ4mm
Weight: 11.3g