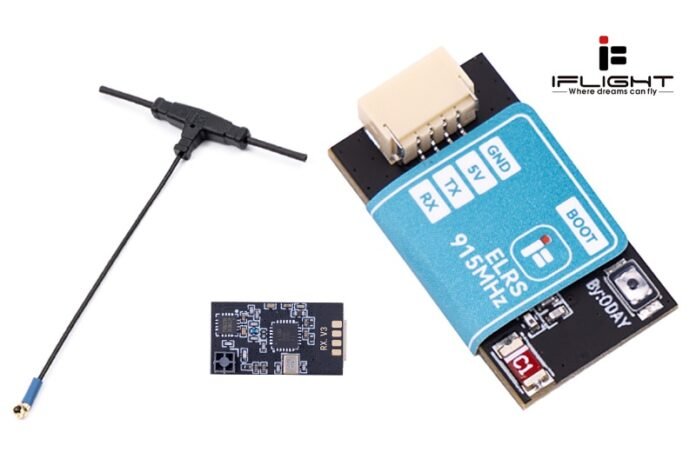 iFlight is the latest FPV drone brand that joined the ExpressLRS platform. The iFlight ELRS RX is available with two frequency options: 2.4 GHz and 868/912 MHz. Will the higher frequency version provide a longer range, the lower frequency edition has better penetration for flying between buildings and other obstacles.
The iFlight ExpressLRS 2.4G RX comes with four antenna options. For small builds, you can opt for an onboard ceramic antenna and larger FPV quads for 40mm, 70mm, or 220 T-type antenna. The iFlight ELRS 868/912MHz RX is available with only two antenna options: 40mm and 70mm.
iFlight claims that they probably achieved the market's best crystal frequency stability at a very low-frequency deviation (only 11KHz in total at 51.99976MHz on the crystal). Due to local regulations, the 915MHz FCC region seems to have a better performance than the 868MHz EU region. The 2400MHz band works great in any region and has a higher packet rate of up to 500hz. This is not a common 2400MHz protocol and cannot be compared to anything prior on the market.
Key features
Improved circuit design
Market's lowest crystal frequency deviation (low packet loss, high-frequency stability)
High-performance at 2400MHz or 900MHz (915 / 868 bands available)
Frequency-tuned T-style dipole and SMD antenna options
Pre-soldered SH1.25 connector with 30mm wire length (Plug&Play for easy installation with iFlight FCs)
Technical parameters
Antenna connector: IPEX(868MHz/915MHz/2.4G) / Molex 479480001 SMD antenna(2.4G w/SMD antenna)
Firmware: ExpressLRS iFlight 900RX(868MHz/918MHz) / ExpressLRS iFlight 2400RX(2.4G)
Frequency bands: 868MHz EU/915MHz FCC and 2.4GHz ISM
Telemetry Power: 17dbm (868/915MHz) / 20dbm(2.4G
Connector: SH1.25, including 30mm wire (pre-soldered)
Pinout: 5V GND RX TX
Input voltage: 5V
Protocol: CRSF
Dimension: 12*19.5mm
Weight: 1.2g