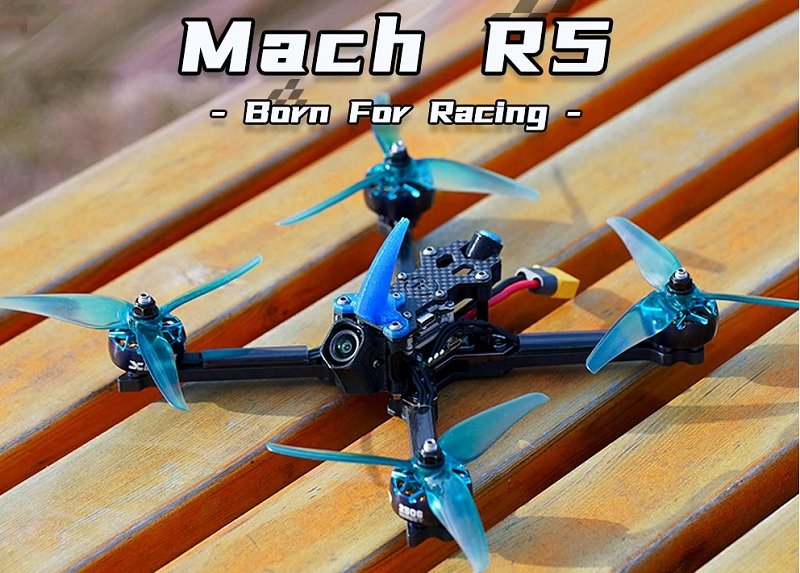 iFlight's new Mach R5 FPV racing quadcopter is capable of achieving a top speed of 200Km/hour. The 215mm size carbon fiber frame has easy to replace 6mm arms. The TPU shark fin helps in Turtle mode (Flip Over After Crash).
iFlight Mach R5 comes with two different FPV setups. In comparison, analog edition has RaceCam R1 camera and SucceX Mini 600mW VTX, the HD digital Caddx Nebula Nano camera and Caddx Vista digital VTX.
While the Mach R5 Analog has a SucceX-D Mini F7 TwinG flight stack with SucceX Mini 55A ESC, and the digital Mach R5 has Beast F7 AIO Flight Controller with integrated ESC.
iFlight Mach R5 features
215mm size carbon fiber frame with quick-swap 6mm arms;
Pre-tuned out of the box;
Up to 200km/h top speed;
Two FPV versions (Analog and HD digital);
Shark fin TPU for safe roll-over (Turtle mode);
Beast F7 AIO (HD digital) or SucceX-D Mini F7 TwinG (Analog) flight controller;
XING2 2506 1850KV brushless motors with brand new Nazgul R5 propellers;
RaceCam R1 Cam + SucceX Mini VTX (Analog) or Caddx Nebula Nano System (HD Digital);
6S LIPO compatible (1300mAH recommended).
Main parts specifications
Frame kit specs
Wheelbase: 215mm;
Main body dimension: 152*152mm;
Arm thickness: 6mm;
Bottom plate thickness: 3mm;
Top plate thickness: 2.5mm;
Middle Plate thickness: 2.5mm CNC 7075 aluminum alloy;
TPU Camera plate;
FC mounting patern: 30.5*30.5/25.5*25.5mm/20*20mm;
FPV Cam: 14mm /19mm Micro / 20mm.
Beast F7 Flight Controller specs
MCU: BGA-STM32F745;
Gyro: MPU6000;
Blackbox: 16Mb Onboard Flash;
BEC output: 5V 2.5A;
Barometer: DPS310;
Connector: Micro-USB;
OSD: AT7456E;
FC Firmware:IFLIGHT_F745_AIO;
Mounting pattern: 25.5*25.5mm φ3mm;
Dimensions: 32.5*32.5mm;
Weight: 8.5grams.
5.8GHz SucceX Mini Micro VTX specs
Power: PIT/25/200/400mW/600mW;
Antenna interface: MMCX;
VTX protocol : IRC Tramp;
Output 40 channels;
Size: 29*29mm;
Mounting pattern: 20*20Φ3/25*25 mmΦ2;
Weight: 4grams.