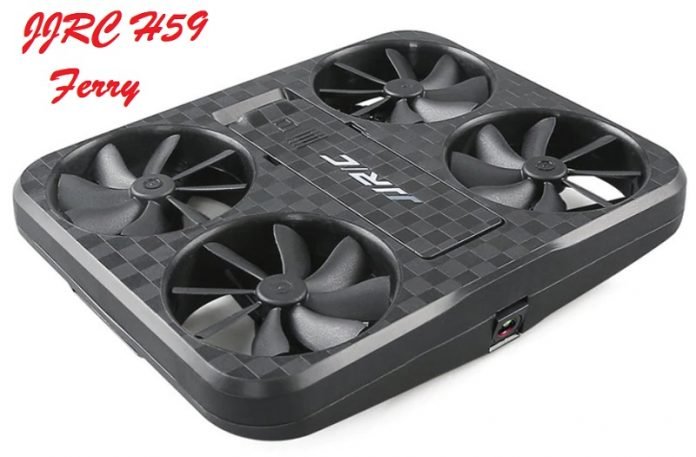 After the epic success of the Elfie drone, JJRC strikes back with another cartoon character named wannabe selfie drone. Compared to its older brother, the JJRC H59 Ferry has a more protective air-frame and some new cool features.
The size of the aircraft is 111 x 111 x 20mm and weights about 110 grams. The 8-blade propellers are perfectly protected by the uni-body frame. The brushed motors are installed horizontally instead of vertically like in case of most similar toy drones. The flight battery is loaded from top of the drone.
During night flights you will be guided by 6 LED lights, one blue under each motor and one green on each side of the quadcopter.
In front of the drone is located a tiny 1080P camera. The tilt angle of the lens is adjustable (about ± 45 degrees) in order to obtain the best field of view. The camera provides WiFi real-time image transmission.
Best of all, in addition to the barometric air-pressure sensor, the JJRC Ferry H59 has optical flow sensor which provides ultra stable hovering – essential for taking selfies.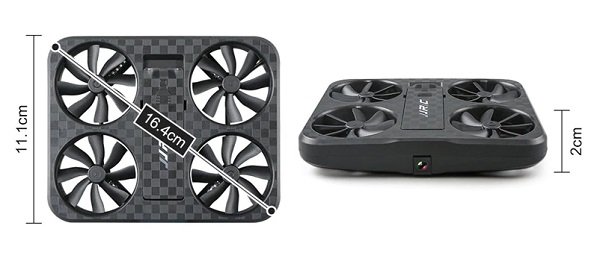 JJRC H59 Ferry main features and technical specs
Ultra safe air-frame with 8-leaf propellers;
Phone APP control
Optical flow positioning system;
Barometric altitude-hold sensor;
One key Take-off/Landing;
Emergency stop;
1080P camera w/angle adjustment;
WiFi real-time image transmission;
Navigation LED lights;
About 5-6 minutes flying time;
16.4 cm wheelbase;
110 grams;
According to the advertised specs, the 2s/500mAh LiPo battery allows about 5-6 minutes of play time. You can opt to control the H59 drone in two ways, using virtual sticks or through gravity sensor. Kids will love to control the drone movements simply by tilting their phone.
What you get with the JJRC H59 Ferry drone?
Being APP controlled, the H59 Ferry comes without a dedicated remote controller. Inside the stylish box, you will find the following: 2s/500mAh flight battery, USB charger cable, User manual and AR Master manual.