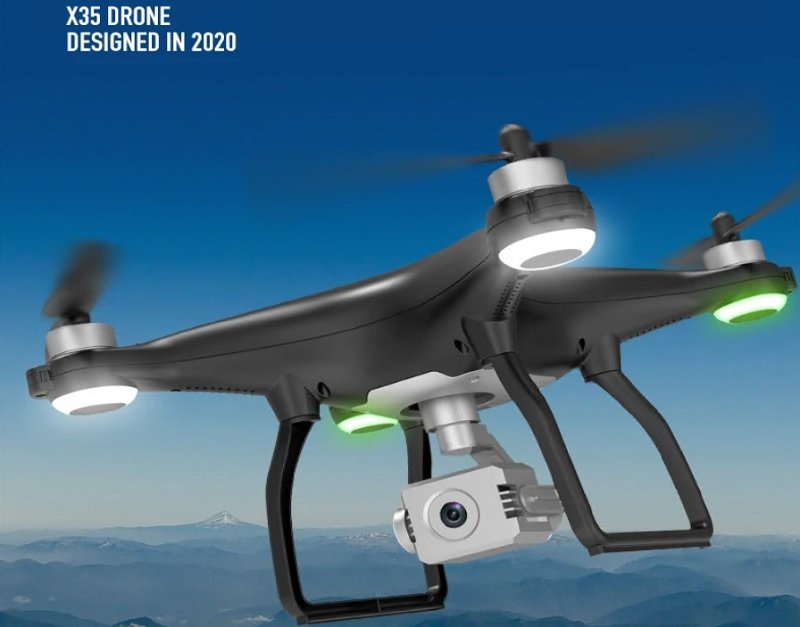 JJRC's latest X35 Elfin drone features a cool Phantom like the design. For only US$179.99, it comes with excellent battery life, good control range, and a 3-axis stabilized 4K camera. Thanks to the 5G real-time WIFI transmission, you can display the JJRC X35's camera feed on your mobile device.
According to the advertised specs, the high-capacity battery (7.6V/3150mAh) allows an impressive of 30 minutes flight time. The LIPO pack has 4 charging level indicator LEDs, allowing you to know how much power you have left. In case of low battery voltage or RC signal loss, the drone will automatically return to the take-off point.
Similar to other GPS drones, the JJRC X35 Elfin also features intelligent flight modes like Follow me, Circle hovering, and Waypoint flight.
JJRC X35 drone features and specs
Professional look, Phantom alike design;
GPS positioning system;
Multiple flight speed rates;
8-level wind resistance;
Intelligent flight modes (GPS Follow me, Waypoint and Orbit);
Fail-safe return to home (Low battery or RC signal loss);
4K camera with 3-axis gimbal;
5Ghz WiFi real-time image transmission;
Cool navigation lights;
About 2KM control distance;
Up to 30 minutes of airborne time.
JJRC X35 Elfin details