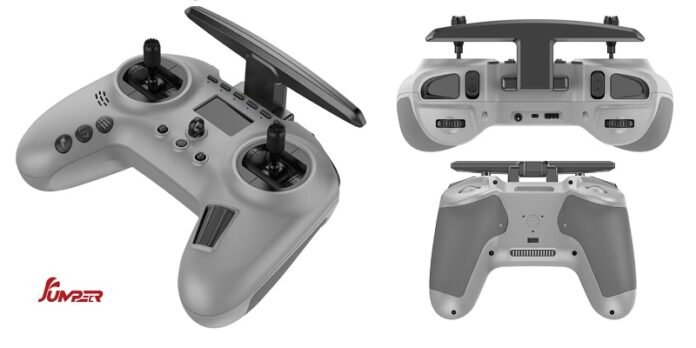 Jumper-RC is about to release a new gamepad-style drone transmitter named T-Pro. In the teaser photos, you can see that its design is clearly inspired by TBS Tango 2 controller.
In addition to the built-in 4-in-1 transmission module, the Jumper T-Pro has an ELRS Nano / TBS CRSF Nano compatible module extension bay on the back. It will be natively compatible with most common radio protocols such as DSM2/X, FrSKY, and FlySky.
Jumper T-Pro uses similar half-sensor gimbals as its predecessor the Jumper T-Lite. Now instead of tiny control buttons, it uses a more convenient navigation scroll wheel. It has two button-style switches and a control dial on each side.
The T-Pro controller has a size of 160*128*68 and weighs 488 grams. The transmitter is powered by two pieces of 18650 batteries.
Price and availability
The T-Pro transmitter can be ordered from Banggood for $125.99 with 10% off. The expected shipping time is starting on January 9, 2022.
Jumper T-Pro transmitter features and specs
Delux gamepad style design with built-in status screen (1.3″ – 128x64pixels);
Popular opensource OpenTX firmware;
Integrated JP 4-in-1 multi-protocol module (DSM2/X, FrSKY, SFHSS, FlySky, FlySky AFHDS2A, Hubsan, etc compatible);
ELRS Nano / TBS CRSF Nano compatible module extension bay;
Support telemetry and LUA Script;
Hall Sensor Gimbals;
Two shoulder buttons and one dial on each side;
Voice and Vibration alerts;
Removable 2x 18650 batteries and built-in charging unit (via USB Type-C port);
External micro SD slot.