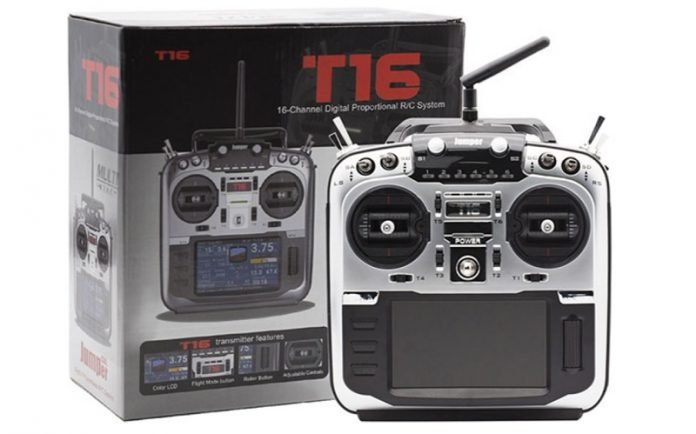 The Jumper T16 Pro V2 with hall gimbals is a high-performance transmitter (TX) with a bright 4.3″ display. The T16 Pro HALL V2 is compatible with TBS Crossfire modules and runs on OPENTX firmware. Its internal JP4IN1 module is compatible with most common radio protocols.
On the front panel, besides the half sensor gimbals, there are 6 trim-switches, 4 switches (two on each side), and two dial knobs. It also has two shoulder switches on each side. The generous 4.3-inch color LCD allows easy configuration as well as displays real-time telemetry flight data. In addition to the voice function, the T16 Pro V2 transmitter features vibration alert.
What's new?
The main improvements of the second generation T16 Pro transmitter are the USB type-C charging port and the folding handle which allows convenient storing and transportation. Furthermore, the "V2" comes with upgraded Hall sensor gimbals and an internal multi-protocol radio module.
Jumper T16 Pro V2 highlights
JumperTX 4-in-1 multi-protocol radio module included (DSM2/X, FrSKY, SFHSS, FlySky, FlySky AFHDS2A, Hubsan and more);
Up to 16 configurable channels;
High performance STM32F429BIT6 ARM MCU (full specs

here

);

OpenTX

firmware;
Hall Sensor gimbals;
Wheel menu button;
Four shoulder switches + four frontal switches;
Industrial grade 4.3″ 480*272 color LCD + status display;
USB type-C charging port;
Removable battery (7-8.4V DC input);
Folding handle;
Supports Telemetry;
Voice function + Vibration feedback;
Standard JR module slot;
6-Flight Mode Buttons (for APM and Pixhawk flight controllers).
JP4-IN-1 radio module technical specifications
Working voltage: 6-9V;
Working current: <=100mA;
Operating frequency: 2.4G ISM band;
RF power: +22db;
Main control chip: STM32F103CBT6 (128K ROM, 20K RAM);
Module bay compatibility: FRSky, Jr and other dimensions: 64*49*33 (without antenna);
Net Weight: 42g (including antenna);
Software Compatibility: Suitable for radios using OpenTX or er9x/ersky9x;
Firmware upgrade: Yes, via USB port;
RF Chip Data:
Cypress Semiconductor CYRF6936: DSM/DSMX, Walkera Devo;
Texas Instruments CC2500: FrSky, Futaba SFHSS;
Amiccom A7105: FlySky, FlySky AFHDS2A, Hubsan;
Nordic Semiconductor NRF24L01: HiSky, Syma, ASSAN, and most other Chinese models.
Transmitter design