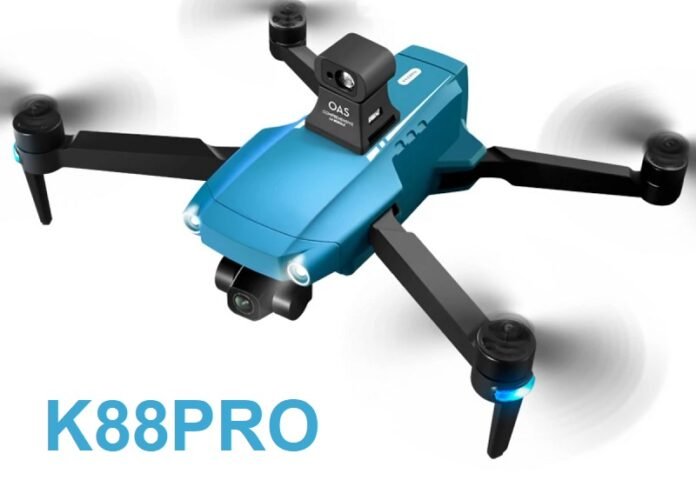 ()The new K88PRO is one of the best beginner-friendly drones under $200 that you can get right now. It has GPS-failsafe and a handful of intelligent flight modes. You'll get a 22 minute flight time per charge and a range of up to 500 meters. The 6K front camera is attached to a 3-axis gimbal. You can even get the K88PRO with a laser obstacle avoidance sensor (OAS). For the OAS module that adds extra safety for newbie pilots, you will need to pay 20 extra bucks.
Unlike professional or semi-professional drones, most of the drones under $200 including the K88 PRO use a WIFI connection between the drone and your phone which provides less range and lots of latency in the video feed. However, inexperienced pilots should fly only line-of-sight and not FPV!
The K88PRO can be purchased for $199 Banggood with one battery or for $243.99 in a fly more combo kit with 3 flight batteries. Each 2s 3800mAh LIPO pack provides about 20 minutes of flight time. The battery can be conveniently charged using the included USB cable.
On the belly of the fuselage, there is a second camera that serves as an optical flow sensor (OFS). This tiny piece of hardware allows stable hovering in indoor enviroment.
The drone has a compact foldable design, which makes it great to carry around and a good quadcopter to travel with. Being over 250 grams it is recommended to check your country's drone regulations before ordering one.
Happy Easter to all our readers!