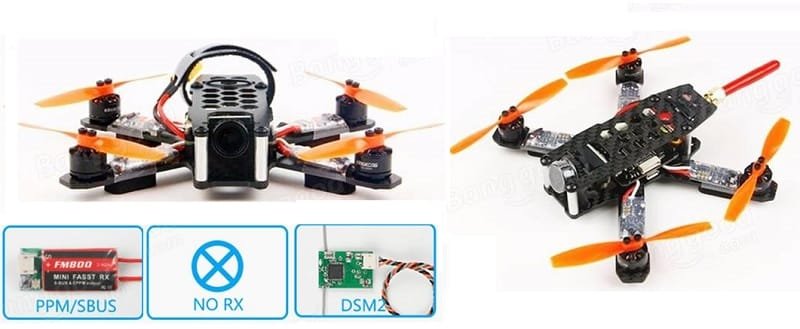 KingKong 130GT with 800TVL FPV camera and F3 PLUS flight controller
This KingKong 130GT is probably currently the smallest racing quadcopter with brushless motors. According to your existing transmitter, you can opt between 3 variants of the quad: no RX, DSM2 or Futaba receiver.
In front of the KingKong 130GT is located a mini 800 TVL camera witch is paired with a powerful 5.8G 400 mW video transmission module.
Unfortunately the package does not include any battery, so it needs to be purchased separately. You can opt for a 2S 800mAh 25c or a 3S 450mAh 35c Li-Po battery.
The KingKong 130GT racing drone is built around the popular F3 Plus flight controller.
KingKong 130GT features and specs
Carbon fiber airframe;
130 mm diagonal rotor-rotor distance (Wheelbase);
F3 Plus flight controller with Cleanflight 1.13.0 firmware;
1105 brushless motors;
BLHeli 6A ESCs;
800TVL camera with 1/3″ image sensor;
400 mW 5.8G video transmission modules;
Can be powered by 2S 800mAh 25c or 3S 450mAh 35c;
Control range according to the paired radio transmitter.
Included with the KingKong 130GT (PNP Package)
2 sets of 3020 propellers;
8 pieces of M2*6 screw nuts;
800TVL camera;
400 mW 5.8G video TX;
5.8G FPV antenna;
Optional DS or PPM/SBUS receiver;
Battery strap;
No battery!!