The Easoul L109 PRO is an upgrade version of the popular MATAVISH 3 drone. The newer version comes with 2-axis mechanical gimbal, extended control range (1200m vs 800m), and more speed rates (3 vs 2). Besides the performance upgrade, the L109 PRO also gets a facelift by using black & silver colors instead of just boring gray.
Like most portable drones, the L109 PRO Easoul also features backpack friendly foldable design. When it is folded up it measures 16 x 7.5 x 7.5 cm. At the end of each arm, there is a powerful brushless motor.
Powered by a 3S/1600mAh battery, it claims to have up to 25 minutes of flight time, which is pretty nice from such an affordable 4K drone. In order to allow stable hovering in both environments (indoor and outdoor), it combines GPS positioning with visual positioning.
Price and availability
Starting today (March 24) it can be ordered from Banggood. According to how many batteries you choose, the price varies between 139-179.99$US. This price includes the battery charger, transmitter, and spare propellers. For an extra 10 bucks, you can also opt for a storage bag.
Easoul L109 PRO drone features & cons
Compact size with foldable arms;
GPS positioning for super stable outdoor hovering;
Optical-flow positioning;
Pro-grade brushless motors (low noise & long life);
7 level wind resistance;
Fail-safe auto return to home (low battery, rc signal loss);
On-board 4K camera (1920*1080 video and 3840*2160 photo);
2-axis mechanical image stabilization
5G WiFi real-time image transmission (600~800 meters range);
Intelligent flight modes (GPS Smart follow, Trajectory pointing and Surround point flight);
Triple flight speed rates;
Navigation LED lights (one under each arm + two frontal)
Up to 1200 meters control distance;
About 25 minutes of flight time.
Remote controller
As you can see in the image below the L109 PRO comes with a pretty nice remote controller. By folding up the phone holder, is revealed its status screen which shows useful telemetry data like GPS signal, number of satellites, remote and aircraft battery level, flight mode, flight speed, flight altitude, and flight distance.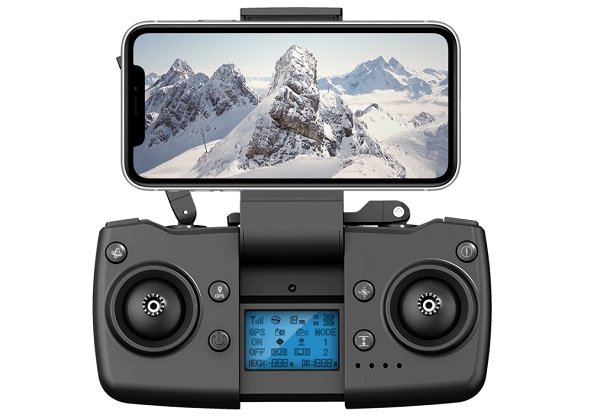 The transmitter comes with a built-in 180mA battery which allows about 3 hours of usage. Thanks to the dual antenna system the upgraded remote controller has up to 1200 meters control range.
List of accessories package with the L109 PRO Easoul quadcopter
Remote Controller w/ built-in battery, status LCD, and phone holder;
3S/1600mAh flight battery (1, 2 or 3);
USB charger;
Pack of spare screws + compatible screwdriver;
Two pairs of spare propellers;
Drone instruction manual;
Two pieces of flannel storage bags (one for drone and one for RC).
A closer look on L109 PRO drone