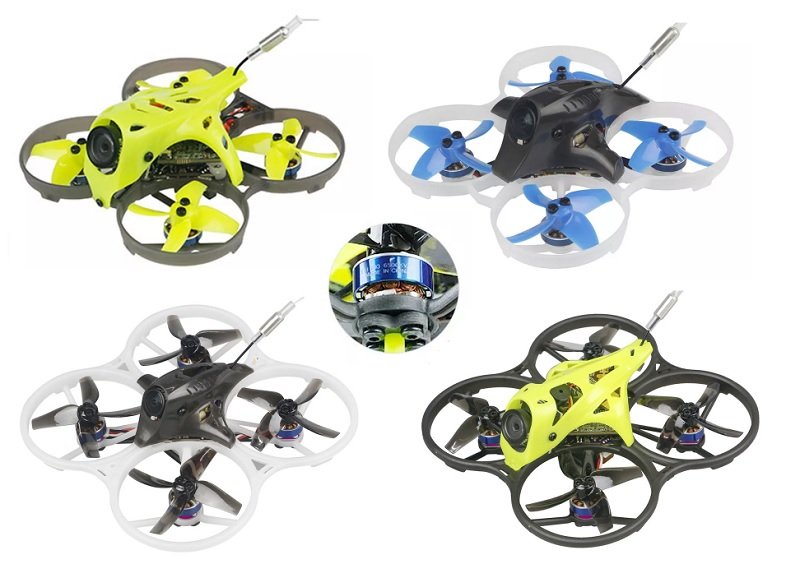 While many racing quad manufactures already gave up to the Whoop protectors, LDARC just announced two new FPV drones which adopts ducted design. While the LDARC ET75 has 74mm wheelbase and it is powered by 3S LIPO batteries, the larger KingKong ET85 has 87.6mm wheelbase and it is 4S compatible.
Both versions are available with two type of cameras. While "FPV" version comes Runcam Nano 2 700TVL camera, the "HD" edition with Caddx Turtle V2 1080P camera. In addition to the better image quality, the ET75HD and ET85HD features on-board video recording. LDARC opted to use a 5.8G/48CH video transmitter with up to 200mW VTX power. Thanks to the IRC-Trump feature you can change channels and adjust power even remotely using your transmitter.
While in case of LDARC ET75 series, the 51mm propellers are matched with 9300KV motors, in case of ET85 with 6500KV motors.
ET75 vs ET75 HD vs ET85 vs ET85 HD comparison
| | | | | |
| --- | --- | --- | --- | --- |
| | ET75FPV | ET75HD | ET85FPV | ET85HD |
| Wheelbase | 74mm | 74mm | 87.6mm | 87.6mm |
| Flight controller | F4 OSD | F4 OSD | F4 OSD | F4 OSD |
| Motors | XT1102 9300KV | XT1102 9300KV | XT1103 6500KV | XT1103 6500KV |
| ESC | 12A BLheli_S ESC | 12A BLheli_S ESC | 12A BLheli_S ESC | 12A BLheli_S ESC |
| Camera | Runcam Nano 2 700TVL | Caddx Turtle V2 1080P | Runcam Nano 2 700TVL | Caddx Turtle V2 1080P |
| DVR | No | Yes | No | Yes |
| VTX | 48CH 0/25/100/200mW | 48CH 0/25/100/200mW | 48CH 0/25/100/200mW | 48CH 0/25/100/200mW |
| Battery | 3S – 300mAh | 3S – 300mAh | 4S – 430mAh | 4S – 430mAh |
| Price (PNP version) | $112.99 | $161.59 | $125.99 | $170.99 |