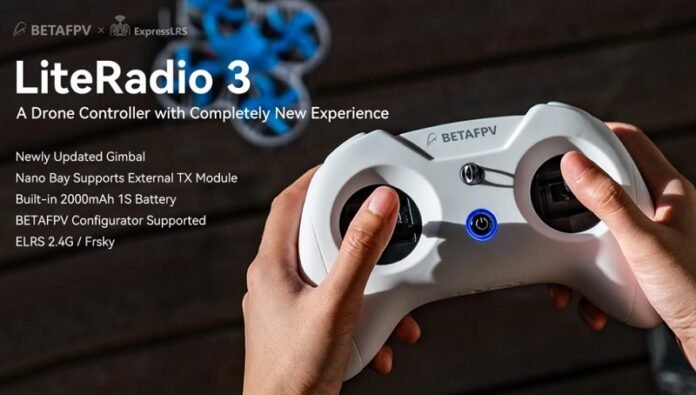 BetaFPV's third-generation LiteRadio 3 comes with two radio options (CC2500/FrSky or SX1280/ELRS) and a Nano TX extension bay. It also adopts a similar gamepad style design as its predecessors.
The BetaFPV LiteRadio 3 is powered by an inbuilt 2000mAh battery that allows about 15 hours of working time. When the battery is near empty a blue LED will flash reminding you that is time for a recharge. By comparison, the older LiteRadio 2 SE has a only 1000mAh battery (~8h working time).
While ELRS's broadcast power can be toggled between 25mW, 50mW, and 100mW, the Frsky edition has fixed 100mW. Both versions have 8 configurable channels.
BetaFPV LiteRadio 3 core features
LiteRadio 3 upgrades with BETAFPV self-developed Customized LiteRadio System. Pilots can directly operate the Joystick Calibration and Firmware Update on the radio transmitter, which is more convenient for the beginner racer to operate.
Equipped with a built-in 2000 mAh 1S battery, LiteRadio 3 can work up to 15 hours without an external module, bringing an excellent endurance performance.
Comes with a built-in charging module, LiteRadio 3 supports USB charging which is more convenient to use. Meanwhile, it designs a Low-Power warning to indicate a low battery. It indicates a low battery and needs to be re-charged if the blue light flashes slowly and the buzzer beeps continuously.
Newly designed with a nano bay, it supports the external TX module. Highly recommend BETAFPV ELRS Nano Module, which is compatible with the LiteRadio 3 radio transmitter and makes CRSF protocol available.
Adopted the rubber coat, LiteRadio 3 is ergonomic and has the shape of a gaming controller. It's comfortable to hold, and the anti-slip texture on the handles allows for a solid grip.
It is the safest and quickest method to get started by using a model practice simulator for starters. LiteRadio 3 radio transmitter supports most of the simulators on market with comprehensive configuration.
Tehnical specification
Frequency Range: 2.4G
2.4G System: CC2500 or SX1280
Channel: 8
Support Protocol: Futaba S-FHSS/Frsky FCC D16/Frsky LBT D16/Frsky D8, ExpressLRS 2.4G
Power: ELRS version 25mW/50mW/100mW, Frsky version 100mW
Adapted Drone Type: Multirotor, Airplane
Support USB Charging / Firmware Update
Support BETAFPV Configurator / Most Practice Simulator
LED Light: Green-Power On / Red-Warning if the voltage is lower than 3.5V / Blue-Normal
Battery: Built-in 2000mAh 1S Battery
Charging Connector: USB 3.0 Type-C
Recommend External TX Module: ELRS Nano TX Module
Recommend Accessories: Nano Gimbal for LiteRadio 3, Storage Case, Transmitter Neck Strap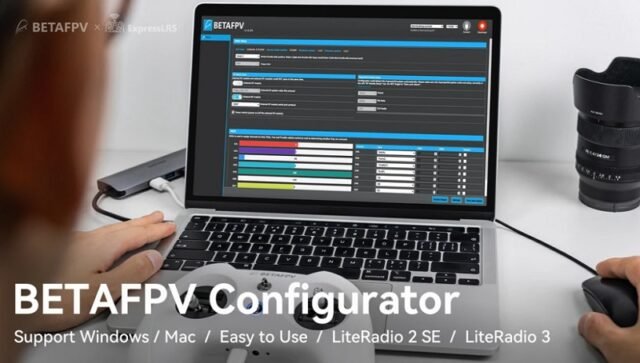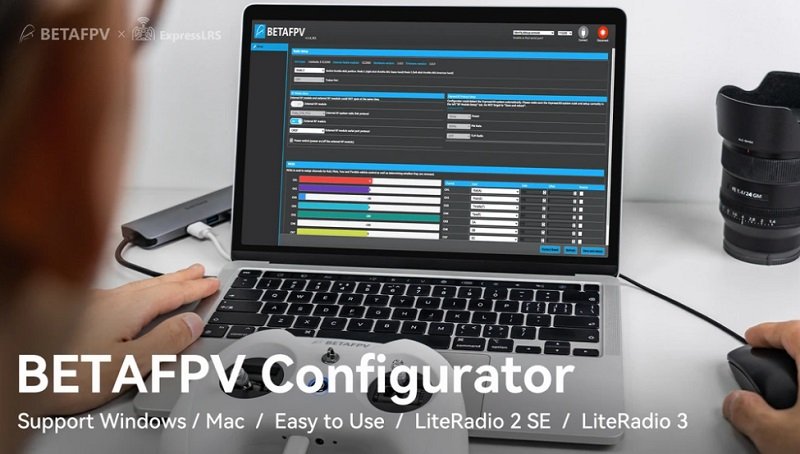 Firmware upgrade and configuration tool
BETAFPV Configurator is a utility designed to simplify updating, configuring, and tuning the radio transmitter.
Basic radio controller setup, like mode switch, turn on/off RF modules.
Full function of the ExpressLRS configuration, like outpower, packet rate, etc.
Channel mixer for fix wing drones.
Firmware update.