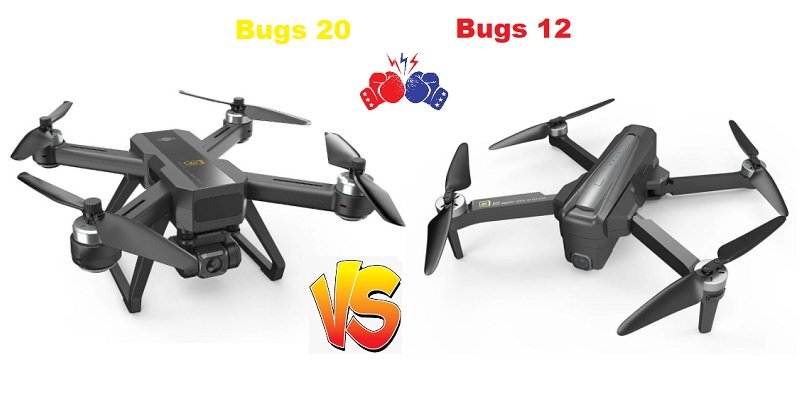 Last month, MJX released two new drones of the Bugs series, named B20, and B12. To be honest, their model numbering is a bit confusing. Although you would expect that a higher number means a newer model, the Bugs12 was announced after the Bugs20.
In terms of size and weight, these two MJX R/C drones are very similar. With extended arms, the Bugs12 measures 440x 400 x 81mm and the Bugs20 380 x 380 x 125mm. As both drones weigh almost 500 grams, they require FAA registration.
While both Bugs are powered with the same power-rated battery packs (2cell/3400mAh), the B12 has 2 minutes longer flight time than the B20. IMHO, the battery life difference can be due to the fact that the Bugs20 uses faster motors (1620 KV vs 1500 KV). According to the manufacturer's technical specs, both drones have about 600 meters of control range and 450 meters FPV range.
Instead of 2/3 axis mechanical stabilization, MJX opted in the case of the B20 and B12 for electric image stabilization (EIS). Despite that, the design of the cameras are very different, both feature a 1/3″ CMOS sensor. Both can record locally (onboard micro SD card) with 3840×2160@30fps or 1080P@60fps resolutions.
MJX B12 versus B20 comparison table
In the table below I will try to compare the most important specs of both drones. I highlighted with red were the Bugs 20 excels and with green were the Bugs 12 shines.
| | | |
| --- | --- | --- |
| MJX R/C | Bugs12 | Bugs20 |
| Size | 440x 400 x 81mm | 380 x 380 x 125mm |
| Wheelbase | 330mm | 280mm |
| Weight | 549 grams | 543 grams |
| Motors | 1500 KV | 1620 KV |
| Camera | 3840×2160@30fps 1080P@60fps | 3840×2160@30fps 1080P@60fps |
| Max bit rate | NA | NA |
| Gimbal | Servo | 1-axis |
| FPV | 5G WiFi – 720P@30FPS | 5G WiFi |
| FPV range | 450 meters | 450 meters |
| EIS | Yes | Yes |
| Intelligent flight modes | Follow me, Point of interest, and Tap to fly | Follow me, Point of interest, and Tap to fly |
| Wind resistance | Level 4 | Level 4 |
| Optical flow sensor | Yes | Yes |
| Battery | 7.6V/3400mAh | 7.6V 3400mAh |
| Flight time | 24 minutes | 22 minutes |
| FAA registration | Yes | Yes |
| Regular price | $189 | $168 |