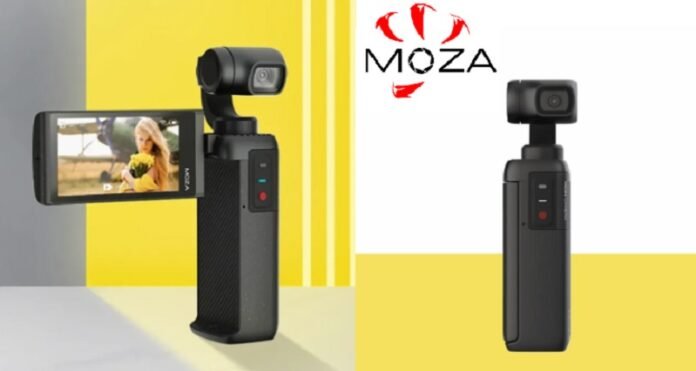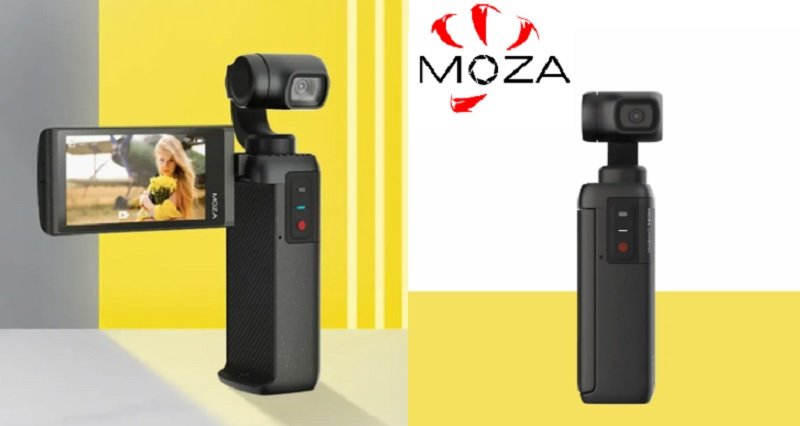 Featuring a large articulating live-view screen, the newly released MOZA MOIN 4K gimbal is considered the best DJI Pocket 2 alternative that you can buy in 2021. Let's find out what other features makes the Gudsen MM the ultimate stabilized vlogging camera.
Gudsen's first pocket gimbal has a 1/2.3" CMOS sensor that is capable of capturing 12MP photos (JPEG or JPEG/DNG RAW formats), 4K@60fps videos (up to 100Mbps), and up to 8x slow-motion videos (720p – 240 fps). In front of the 12MP sensor is a 14mm F2.2 (120°) lens attached to a 3-axis gimbal. Gudsen stands that their Moza Moin camera offers shutter speeds between 60 seconds and 1/8000th of a second and has an ISO range of 100–3200 (for both photos and videos).
For an easy standalone operation (no mobile phone required), the Moza MOIN gimbal comes with an articulating touch-screen that folds out when in use. The IPS LCD has a resolution of 480X272 pixels and a size of 2.45″. The gimbal weighs about 165 grams and measures 129×37.8x32mm with the folded-in display.
Similar to DJI's OSMO POCKET, it features creative shooting modes like Time-lapse, Slow-motion, Panorama, Staticlapse, Motionlapse, and Hyperlapse.
According to the manufacturer's technical specs, the built-in 930mAh battery allows up to 145minutes of continuous working when recording 1080/30fps videos.
It features BLE 4.2. and 802.11a/b/g/n/ac WIFI connectivity for an easy remote operation and fast file transfer.
Gudsen MOZA MOIN gimbal core features
Specially designed for vlogging and traveling (compact and lightweight);
2.45-inch (480X272 IPS LCD) foldable touch interaction live-view screen;
3-axis motorized stabilization;
High-performance high-definition imaging (4K@60fps with 100Mbps);
"Dongwei" algorithm, anti-shake before it happens;
60 seconds long exposure, transforming into a master of night scenes;
High-speed continuous shooting;
8X slow-motion videos;
Magic mode, one-click to create a film;
Advanced face tracking system;
Built-in battery for more than 2 hours continuous working (1080p@30fps).
Technical specs
Size of 129×37.8x32mm (with folded in screen);
Weights just 162.8 grams;
Pan: -230° to +50°, Tilt: -95° to 50°, and Roll: ±45° controllable rotation range;
4K 3840X2160 with up to 60fps or Full HD 1920X1080 with up to 200FPV video recording;
12MO 4000X3000 photo resolution;
Up to 256MB micro SD card slot;
Onboard BLE 4.2. and 802.11a/b/g/n/ac WIFI connectivity;
Built-in 930mAh (7.14Wh) Lithium battery.
MOZA MOIN official trailer video
Gudsen MOZA MOIN gimbal review by Young360
https://youtu.be/4VZSa6U4NQA