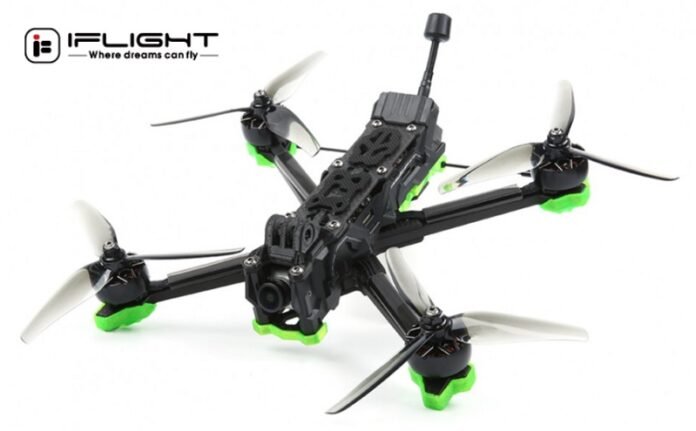 iFlight just announced another 5″ FPV drone with an impressive design that includes cool LED lights and an injection-molded body. The Nazgul Evoque F5 is available with two power options (4S and 6S) and analog or FPV digital FPV. The frame structure is available with Squashed-X (F5X) or DeadCat (F5D) arm layout.
The digital iFlight Nazgul Evoque F5 comes equipped with the recently released Caddx Polar HD transmission system. The Polar FPV camera has excellent low-light performance and it was specially optimized for night flights.
The new side panels will not only protect from wetness but also protect the internal electronics from any strikes hitting off little components from your flight controller or ESC board. The integrated XT60 connector on the back lets you securely plug in your battery leading all cables away from your props.
Price and availability
All four Evoque F5 versions can be ordered from Banggood with a starting price of $299 for the analog version and $459 for the digital edition. All variants can be purchased in a bundle with FrSky R-XSR, XM+ or TBS Crossfire Nano RX radio receiver.
iFlight Nazgul Evoque F5 highlights
Two geometry options: Squashed-X or DeadCat;
Analog and Digital FPV versions;
360-degree ilumination for night flights;
Bottom to top distance: 28mm
6mm Arm thickness and 2.5mm bottom plate thickness
SucceX- E Mini F7 flight controller;
SucceX-E Mini 45A BLHeli32 ESC;
XING-E Pro 2207 4S/6S brushless motors;
Nazgul F5 5-inch propellers;
FPV system

Analog: SucceX Mini Micro 600mW 5.8GHz VTX
Digital: Caddx Polar Vista HD System

Weight: 392.6g (without battery and GoPro mount);
Technical specs
SucceX-E Mini F7 flight controller
MCU: STM32F22RET6 216 MHz
Gyro: MPU6000
Baro: DSP310
OSD: iFLIGHT OSD (AT7456E)
BEC: 5V 2.5A
BlackBox: 16MB
Uart: 4*UART(UART1、UART2、UART4、UART5)
UART1 for VTX HD/Analog Telemetry
UART2 for Receiver
UART4 for GPS
UART5 for ESC Telemetry
4×Dshot/PWM outputs
SmartAudio & IRC Tramp VTX protocol supported
WS2812 led Strip: Yes
Bepper: Yes
Firmware: IFLIGHT_SUCCEX_E_F7 4.2.0
Outer Size: 27*27mm / 20*20mm φ3 mounting
Weight: 4.9g
SucceX-E Mini 45A ESC
Input: 2-6s LiPoly
Constant: 45 Amps (per channel)
Burst: 55 Amps (per channel)
BEC: No
BlHeli32 telemetry: Yes
Dimensions: 31×29.5mm
Mounting Holes: 20*20mm φ3mm with Grommets φ2mm
Weight: 6.7g (without motor wires)
Target: iFlight-G071-4IN1
Box content
Nazgul Evoque F5 (Squashed X or DeadCat Pattern)
4 x Nazgul F5 Props
2 sets of Battery pads
4 x Battery straps
1 Screw bag