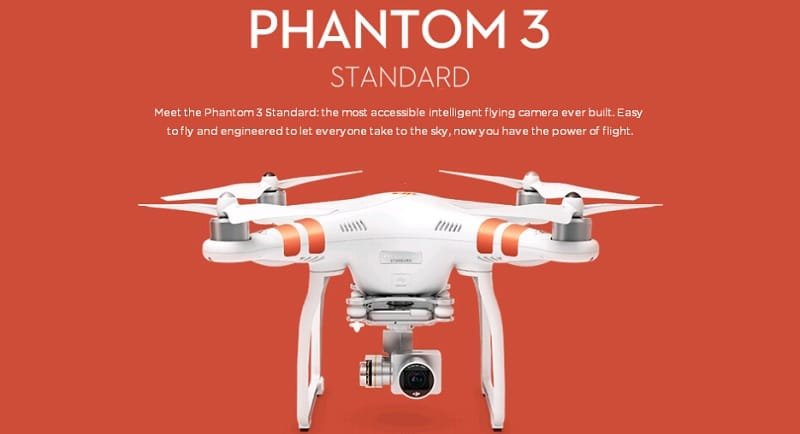 DJI Phantom Standard 3 smart quadcopter for every one!
The Chinese DJI quadcopter manufacturer announced another model of their popular Phantom 3 series. This new Phantom 3 standard comes with video resolution up to 2.7k (1520p) and 720P video downlink for live image transmission. In case of the PH3 Standard, the range of the FPV system is limited to around 500 meters.
Frank Wang, the CEO and founder of the DJI company, declared regarding this new Phantom 3 standard: "We wanted to create a new drone that addresses people who are curious about aerial imaging, but not quite ready to commit to a more professional system. The Phantom 3 Standard makes it easy to get into the air to take great photos and videos."
The latest Phantom 3 Standard quadcopter will be compatible with most of the intelligent flight features like: Follow Me, Pont of interest, Waypoint and IOC.
The most attractive thing on this new DJI quadcopter is the price, on some of the online stores it was already listed for $780.
DJI Phantom 3 specs and features:
Max ascent speed: 5m/s;
Max descent speed: 5m/s;
Max flight speed 16m/s;
Max altitude above the sea level: 6000meters;
Flight time: 25 minutes;
Camera video resolution: UHD 2.7K (2704×1520/30fps);
720p live video feed;
12MP photo resolution;
3-axis Gimbal;
Point of interest;
Follow me;
Auto hoover;
Waypoint and IOC;
Full flight telemetry;
Intelligent flight battery (PH3-4480 mAh): 15.2V 4480mAh;
DJI Phantom 3 standard weight (including battery) 1216g;
Available colors: blue, green, pink, purple and red.
Image credits to DJI