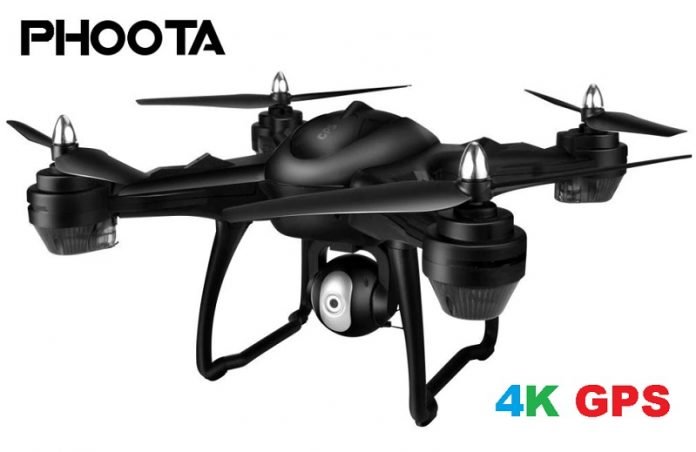 While on paper the Phoota X38GF-4K BLUE KOI drone could look extremely good, without brushless motors is still just a toy. I would be also interested to find out if its 4K camera has effective pixels or it adopts somekind of software interpolation in order to obtain the UHD (3840 x 2160) video resolution.
Despite that its being powered by a very high capacity battery (7.4V/2500mAh), the max. flight time of the Phoota X38GF-4K quadcopter is about only 12 minutes.
Thanks to the Fail-safe RTH feature, the LH-X38G-4K-BS UAV will automatically return to the take-off point in case of remote controller signal loss or low flight battery voltage.
LH-X38G-4K-BS drone features & specs
GPS navigation system;
Altitude hold;
Headless flight mode;
Multiple flight speed rates;
Smart flight modes (smart follow, fixed-point flight & surround flight);
Fail-safe auto return to home (RC signal loss or Low battery voltage);
Removable 4K camera ((170 degree wide angle lens);
Real-time video transmission;
4608 x 3456 photo resolution & 3840 x 2160 video resolution;
About 12 minutes of flight time.
During night flights, you will be guided by for LED lights (one under each motor). It has green LEDs in front and red ones on back.
What's in the box?
4K camera;
7.4V 2500mAh LiPo battery;
Remote controller;
Phone holder;
USB charging cable;
1 set of spare propellers;
2 pieces of landing gears;
1 set of blade protectors;
Portable storage bag;
User manual.