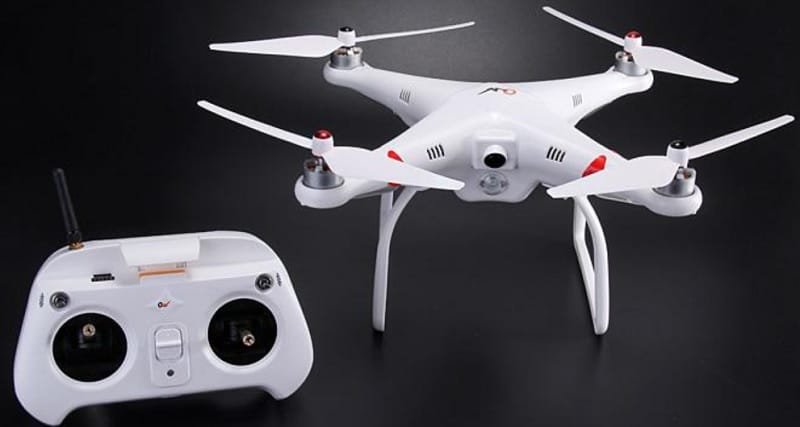 QW GPS first person view quadcopter
Chinese guys are pretty good to clone quad-copters and other electronic devices, but they have a big issue in naming the products. For example, this new quadcopter looks very good and it has some decent features, but frankly what chances they have to make a successful promotion for a product with names like: "QW quadcopter" or "PiPo QW quadcopter"?
The design of the QW 350 quad is simple and very similar with the popular DJI Phantom. The FPV camera is located in front of the aircraft together with a powerful LED light.
For aerial filming, the QW quadcopter can be equipped with a secondary camera. Unfortunately I did not find any sign that can be equipped with a 2D or 3D gimbal that is absolutetly necessary for professional videos.
The package also includes the FPV LCD screen that is required to display the live video feed from the quadcopter's camera. The LCD screen can easily be mounted on the top of the remote controller.
PiPo QW 350 quadcopter features and specs:
Onboard FPV camera;
FPV LCD screen;
Complete first person view system;
Optimal secondary camera (any GoPro alike action camera);
Low voltage protection;
Built-in compass and GPS;
Vertical hover accuracy: 0.5 meter;
Max flight speed: 15m/s;
Size: 350mm.
QW quadcopter package includes:
The quad-copter it self with FPV camera;
2.4Ghz remote control;
3cell 2600mAh Li-Po battery;
3S Balanced battery charger;
LCD FPV screen;
Secondary camera J-Hook mount;
1set of spare propellers;
PiPo QW quadcopter's user manual.