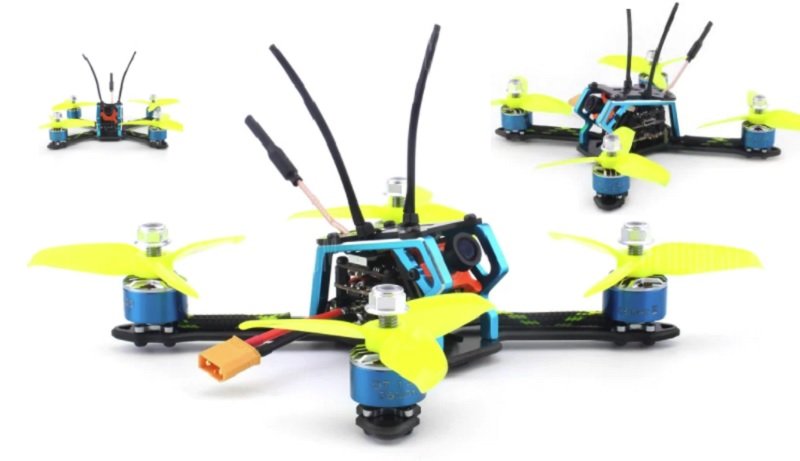 Surely, thanks to its colorful design, the Rcharlance Space Gear drone will be easy to find if you crash it on any type of terrain (snow or high grass). It has cool phosphorescent yellow propellers, orange camera and blue motors. The protective CNC cut aluminium frame is also blue.
The Rcharlance Space Gear GT140mm quadcopter has two versions. PNP, without battery, charger, receiver and transmitter. BNF, with FrSky radio receiver, but without battery, charger and transmitter.
Like most FPV quadcopters in 2018, the Rcharlance Space Gear is also based on the versatile Omnibus F4 flight controller. By default, the FC comes flashed with BetaFlight firmware. According to your flight skills you can configure 3 type of flight modes. While newbies can start with Angle and Horizon modes, advanced pilots can have fun with Acro mode.
Rcharlance Space Gear GT140 features and specs
140 mm sized carbon fiber frame;
CNC cut aluminium protection frame;
Omnibus F4 Flight Controller;
Built-in Betaflight OSD for remote PID adjustment;
Compatible with SUBS, PPM and DSMX radio receivers;
High-torque DT1408 3600KV brushless motors;
4-in-1 28 ESC;
600TVL camera with 1/3″ SONY super HAD II CCD sensor;
48CH 5.8G VTX with adjustable broatcast power (PIT mode, 25mW, 100mW, 200mW or 350mW).
The 600 TVL camera comes with high quality 1/3″ SONY super HAD II CCD image sensor and 2.3mm lens (with 130 degree field of view). The angle of the camera can be adjusted according to your flight style.