Realacc GX210 with optional flight controller (CC3D, Naze32 or SP Racing F3)
Till now, Realacc was mainly oriented on drone spare parts and quadcopter cases. The GX210 will be their first racing quadcopter.
Please correct me if I'm wrong but, as I know, FPV quadcopter enthusiast are divided into three categories depending on which flight controller they prefer. Probably this is why Realacc opted to offer the GX210 with 3 different flight controllers. According to your taste you can chose to buy the Realacc GX210 racing quad with the CC3D, Naze32 or the SP Racing F3 FC.
In order to keep the price as low as possible while maintaining a good control range, the manufacturer decided to pair their racing drone with the Flysky i6 transmitter.
Based on the fact that the aircraft is powered by a 1500 mAh battery and has the size of 180 x 180 mm, in my opinion, the Realacc GX210 FPV quadcopter should have about 7 – 10 minutes of flight autonomy.
Realacc GX210 racing drone features and specs
You can opt for 3 different flight controllers (CC3D, Naze32 or SP Racing F3);
X-shape design;
Carbon fiber airframe (180 x 180 x 95mm);
Racerstar BR2205 2300kv brushless motors;
Racerstar Blheli-S 20A ESCs;
5″ 5045 propellers;
Status LEDs;
700 TVL camera (127° diagonal FOV, 110° horizontal FOV);
Adjustable angle lens;
40CH 5.8G 200 mW TX module (real-time image transmission);
Up to 300 meters control range in open field.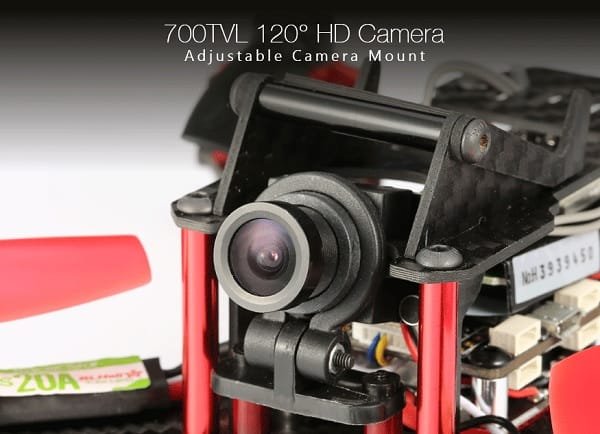 Included with the Realacc GX210 quad (RTF)
GX210 Frame kit;
Flysky i6 Transmitter;
3s 1500 mAh flight battery;
700TVL Camera;
40ch 200mW TX;
Camera Mount;
B3 balance charger;
2 sets of propellers;
5.8G FPV antenna;
GX210 user guide.