Many say that the modular design of the RunCam Split camera is "revolutionary" or "game changer" but, in my opinion, actually it was born from the patent issue of the RC3 (claimed by GoPro). Practically they splitted the camera into 3 parts (lens module, DVR and WiFi module). Frankly I don't know why they didn't included also a 5.8G VTX or maybe they already worked on an upgraded model called RC Split 2 ?!
While the base package (camera+DVR) is advertised for $70, the "deluxe" package with WiFi modules costs $5 extra. The WiFi module allows to remotely fine-tune the camera's settings using your smartphone.

Unfortunately nothing is perfect, besides lots of Pros (one camera for all, less weight, low latency during recording) the concept of RunCam Split has also some Cons. On compact quads (<210 mm) is very hard to find a secure place where the DVR module can be installed. The power consumption (650mW) is also also pretty much for small builds.
RunCam Split camera features and specs
Modular design (camera + DVR + WiFi module);
FPV FOV 130° / Recording FOV 165°;
Up to 1080@60fps video recording;
2MP photo resolution;
PAL / NTSC video standards;
Real-time video and audio output;
Built-in microphone on DVR module;
Micro USB / UART ports;
Optional WIFi module;
5V power input.
Thanks to the DVR's built-in microphone, the RunCam Split is capable to record videos with audio.
According to the manufacturer's specs, the camera must be powered by 5 volts (4.2 LiPo). If your flight controller can't provide enough power for the RC Split camera, you will need a voltage regulator (5V BEC).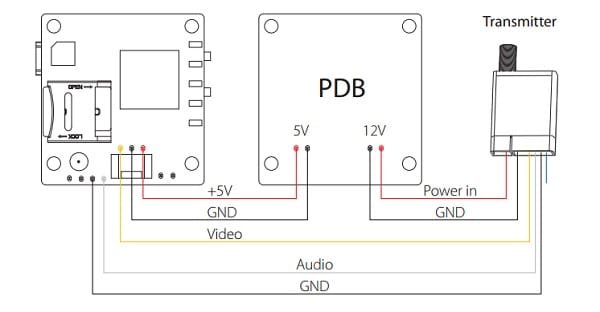 Included with the RunCam Split camera
Camera Module with 90 mm lens extension cable;
180 mm lens extension cable;
Aluminum bracket;
ABS bracket;
3 pin FPV silicone cable for VTX;
RCA TV-out and power cable;
2 sets of screws;
User manual;
Optional WiFi module.