RunCam, one of the most popular drone camera manufacturers, announced their new Thumb Pro camera weighing only 16 grams and comes with UHD recording. The Runcam Thumb Pro is suitable for almost any size of CineWhoop and other kinds of FPV drones. It can record 4K@30fps or 2.7K@60fps videos (up to 60mbps).
As it is intended to be installed on a drone, it does not have a built-in battery. The Thumb Pro camera is powered directly by the flight controller (500mA@5V Max). It can be remote controlled via a UART port. The camera measures 55x26x21mm and can accept up to 256GB micro SD cards.
Price and availability
Starting 15th July, the Thumb Pro can be ordered from Banggood in four package options with a starting price of US$89.99. For the deluxe bundle with included ND filter kit and 128GB micro SD card, you will need to pay $106.99.
Camera basic operations
Power On/Off
Automatically turn on when powered on, the red light is always on
Cut the power or long-press the button to power off
Start/Stop recording
Click the shutter button to start recording, and the red light flashes
slowly / Click the shutter button again to stop recording, the red
light is always on
Mode switch
Double-click the shutter button quickly to switch between the
recording mode (the red light is always on) and the parameter
settings mode (the green light is always on)
Parameter settings mode
Scan the QR code in the Runcam APP to configure
Remote control mode
Thumb Pro Connect ThumbPro to flight controller for operations
SD card error
Red light keeps flashing fast
The Thumb Pro can be also operated and configured via the RunCam APP from your smartphone.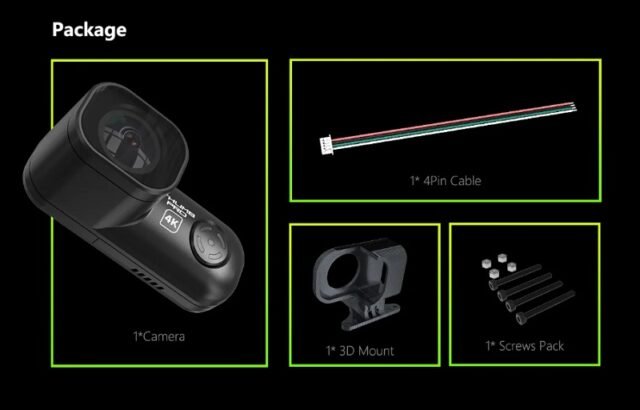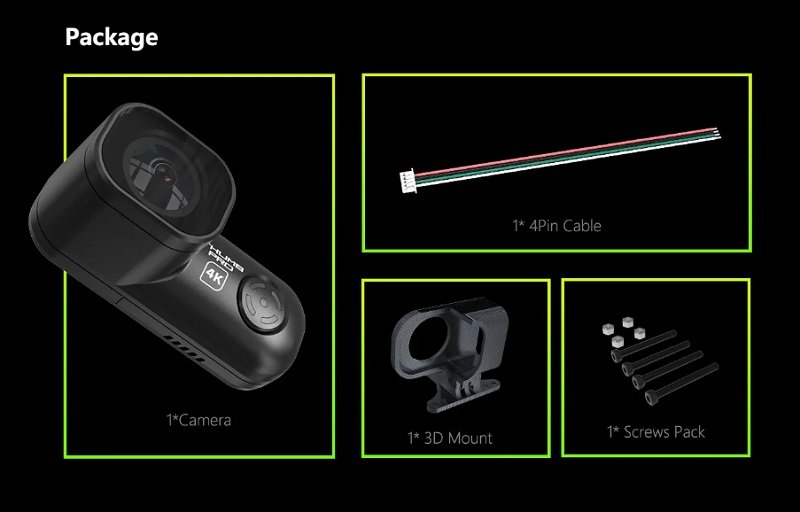 Included accessories with the Thumb Pro camera
4pin power + control cable;
3D printed camera mount;
Pack of screws;
Optional Neutral Density filter kit (ND8, ND16, and ND32).
Enjoy Albert Kim's sample video with GyroFlow stabilization enabled