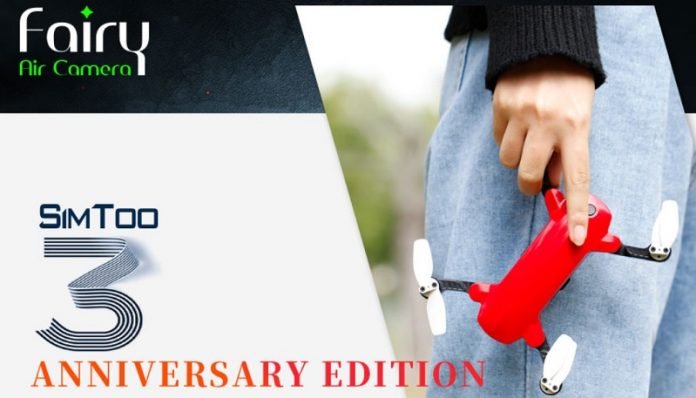 The SIMTOO XT175 Fairy is an affordable GPS enabled selfie drone. In addition to the dual satellite positioning system it features also optical positioning. The SLAM positioning system ensures stable hovering for indoor environment. Thanks to the foldable arms the XT175 Fairy can be stuffed easily into your everyday backpack.
According to the manufacturer's specs, the 2s/970mAh LiPo battery allows up to 16 minutes flying time.
Featuring fail-safe return to home (RTH), when the flight battery is near empty or it is out of controller's range, the Simtoo Fairy will return autonomously to the take-of point.
SIMTOO XT175 Fairy main features & technical specs
Light weight foldable design (only 140 grams);
Dual satellite positioning system (GPS & GLONASS);
SLAM optical positioning for stable indoor flights;
Intelligent flight modes (Follow me & Waypoint);
Fail-safe return tome (on low battery & out of RC range);
On-board 8MP/1080P camera;
WiFi real-time image transmission;
Powerful brushless motors;
Up to 40KM/h flying speed;
About 150 meters control distance;
Up to 16 minutes hovering time.
Besides manual control mode, the Simtoo Fairy also features autonomous flight modes like Follow me and Way-point mission. Note: these modes are available only through phone APP.
SIMTOO XT175 Fairy: camera & FPV
As you can see in the image bellow, the 1080P camera is integrated and allows slight angle adjustment. The wide angle lens provides 115 degree field of view.
SIMTOO XT175's camera features WiFi real-time image transmission. You can see on your phone's screen what the drone sees from the sky. Unfortunately, the FPV range is quite short for such a RC gadget.
SIMTOO XT175: control modes
While Simtoo pairs their XT175 Fairy drone with a nice entry-level remote controller, this also features APP control via 2.4G & 5G WiFi. Through the APP you can opt between two control methods: virtual sticks or gravity sensor.
The white transmitter comes with built-in 470mAh and retractable phone holder. On front panel, besides the usual control sticks, there are only 3 buttons (Unlock/Lock motors, Hover, Landing). No status LCD.
SIMTOO XT175 Fairy: Pricing & Availability
As you can see, the SIMTOO Fairy XT175 does not has the top notch features of the recently announced Mavic 2, but how we could expect that from an almost ten times cheaper drone. Now, with 32% off you can order this foldable selfie drone from TomTop for only $149.99 – this price includes remote controller and free shipping
Included accessories with the SIMTOO Fairy drone:
Remote Controller w/ built-in phone holder;
USB Cable;
Charging adapter;
7.6V 970mAh Lipo Battery
Screwdriver;
Sponsored post by TomTop