Excepting the lack of a built-in DVR, the SKYRC Immersion GO has all the features that a good FPV goggle needs and even some extras. Thanks to the HDMI input and built-in speaker you can use it to watch movies from an external media player.
In order to allow comfortable usage, the SKYRC HD FPV goggle has adjustable head-strap and low-noise cooling fan. The headset itself (without battery) weighs about 308 g.
On top of the SKYRC HD FPV glasses are located 8 control buttons (Scan/Channel, Power/Band, Source, Menu, Up/Down, Left/Right and Volume) and two SMA antenna connectors.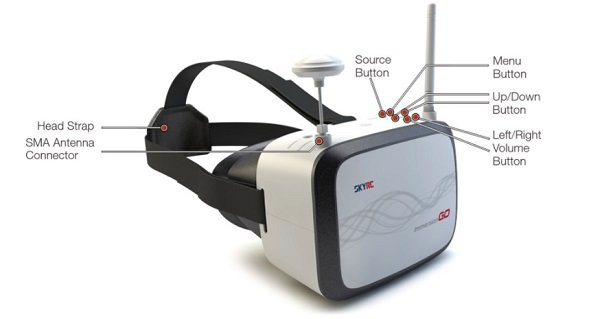 SKYRC HD FPV goggle features and specs
Large 7″ LCD screen with 1024 x 600 pixels;
65 degree field of view;
Switchable 4:3 and 16:9 video formats;
Dual receiver with dual antenna connection;
5 bands, 40 Channels reception;
Built-in ultra-low noise ventilation fan;
7 ~ 18V operating voltage (2 – 4s Li-Po battery);
Mini HDMI input;
AV input;
Head-speaker out;
Built-in speaker;
Adjustable head band.
Unlike the Eachine EV100 which has dual antenna system but no diversity, the SKYRC HD FPV goggle has two 5.8G receivers. Featuring 40th reception channels it can be paired with almost any 5.8G FPV systems. Thanks to the HDMI-In you can use it even with the DJI Phantom 4 drones.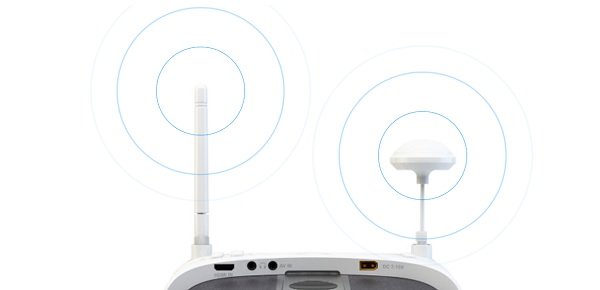 Included with the SKYRC HD FPV headplay
RCA AV Cable;
Power cable (XT30 to XT60 battery cable);
Circular polarized SpiroNet antenna;
Rubber ducky antenna;
Battery belt.