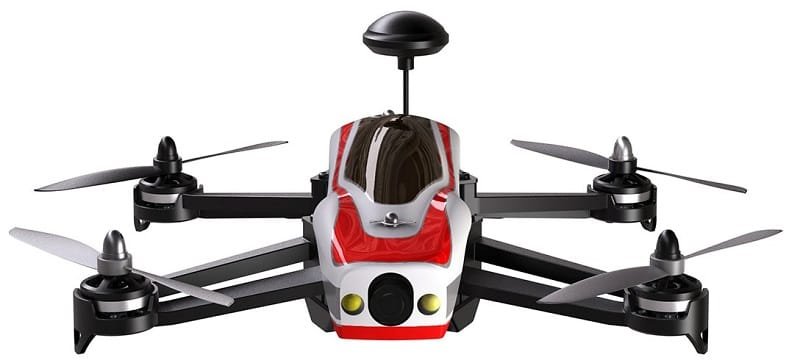 SkyRC Sokar racer quad with 5.8Ghz real-time image transmission
Unlike other racing quadcopters, this SkyRC Sokar has a nice friendly design thanks to the racing car shape cockpit.
Unfortunately, the on-board camera has a very low resolution so we can't expect some great aerials. Anyway, racing quadcopters are designed for other kind of fun. The FPV flying mode with a high speed racer will certainly increase anyone's adrenaline level. The 25 mW 5.8Ghz real-image transmission module allows about 200-300 meters range but, with a good antenna, this can be increased up to 500 meters.
On each side of the camera there is a bright LED light which is not just cool but also allows to practice and fly in dark conditions.
The 3s 2000 mAh Li-Po battery allows about 10 minutes of flight time, which is great but not impressive. Lately, in order to gain more power and speed, most of the racing quads are powered with 4s Li-Po batteries.
I was surprised to see a ON/OFF button on this SkyRC Sokar because it is unusual for racing quadcopters with high current consumption to have one.
SkyRC Sokar quadcopter highlights
5.8GHz real-time transmission;
0.3MP built-in camera with 135 degree field of view;
4.3″ FPV screen (480 x 272 pixels) with built-in 6CH receiver;
8CH 5.8GHz 25mW video TX;
2204-2300KV brushless motors;
5″ propellers;
STM32F031K4 32 bit flight controller;
Nice sporty design;
Frontal LED lights;
ON/OFF power switch;
About 12 minutes flight time;
Up to 500 meters control range in open field.
Included with the SkyRC Sokar
Balance battery charger;
3S 2000mAh Li-Po Battery;
Canopy;
2.4G remote controller;
5.8GHz video transmitter with cloverleaf antenna;
4.3″ FPV Monitor with antenna;
2 sets of propellers;
L type wrench;