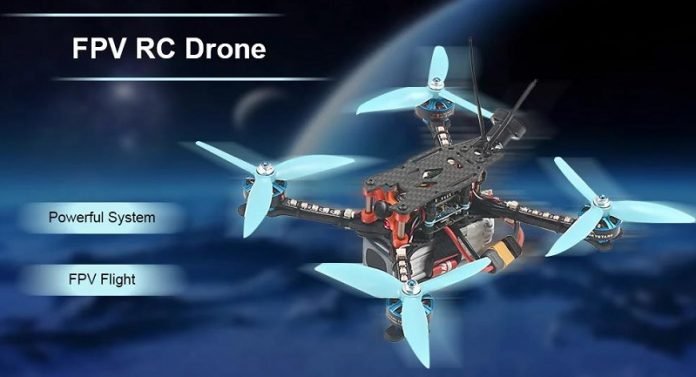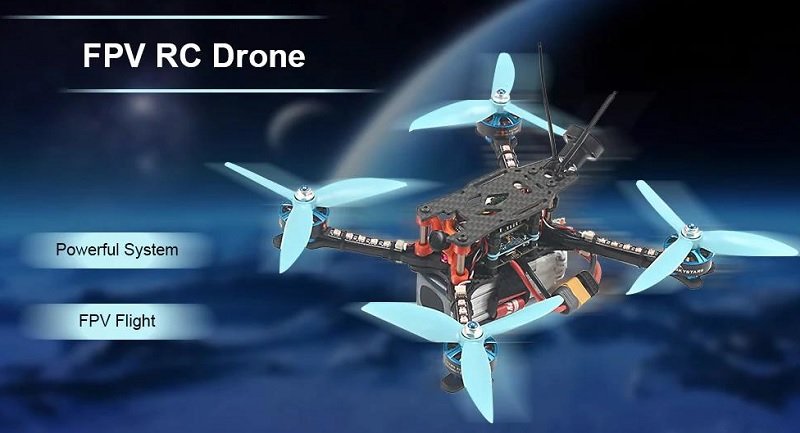 While the LED lights on the SkyStars RXT-X219 are mainly useless for the FPV pilots, they will make definitively more attractive the race for the audience. As you can see in the image bellow, the RXT-X219 FPV drone comes with 10 pieces of WS2812 RGB LEDs on each arm (5 on each side).
As its name says, the SKYSTARS RXT-X219 quadcopter is build on a 219mm sized frame. In order to allow great impact durability, the 3K carbon fiber arms have a thickness of 6mm.
In addition to the on-board 600TVL FPV camera, there is enough room on top of the drone for a second DVR camera. The real-time image transmission is achieved using a 5.8Ghz/48CH VTX with adjustable broadcast power. According to your needs, you can toggle between 25mW, 100mW and 600mW TX power. Channel and power settings can be done through the on-board control button as well as remotely via BetaFlight OSD.
SKYSTARS RXT-X219 core features & technical specs
Robust 219mm sized carbon fiber frame (6mm arms);
Cool LED lights for night races (RGB LED bar on each arm);
F4 flight controller /w built-in BetaFlight OSD;
Skystarts ST2306 2500KV brushless motors;
40A 2-5S Blheli_32 4 in 1 ESC (BLHELI_32 firmware – Dshot150/300/600/1200);
5″ Skystars 5049 3-leaf propellers;
600TVL FPV camera with 1/3″ SONY Super HAD II CCD image sensor;
5.8Ghz/48CH mini FPV transmitter with adjustable power (25mW/100mW/600mW);
Compatible with 3-4s / 1500-1800mAh LiPo batteries;
Optional FrSky or FlySky radio receiver.
Needed to Complete
The RXT-X219 drone is offered by SkyStars in two package versions, PNP and BNF. While RTF package requires only battery and compatible transmitter, the PNP package requires additionally radio receiver. Both versions comes with two sets of Skystars 5049 propellers.For FPV flights you will also need FPV goggles.