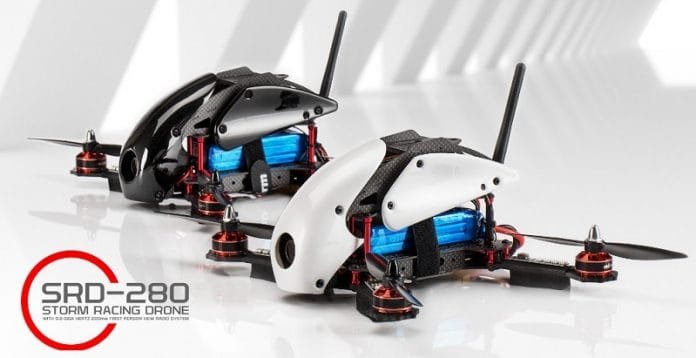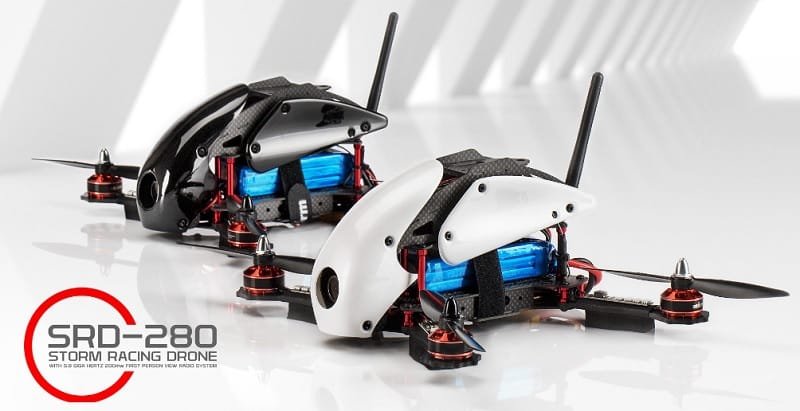 Storm SRD280 V4 with BeeRotor BRF3 flight controller
While I was looking for a professional racing quadcopter I came across the HeliPal's Storm SRD280 (aka RoboCat).
The 4th generation of the Storm SRD280 racing drone comes with the same beautiful design (as its predecessors) but with better flight controller and upgraded propulsion system (motors, ESCs and propellers).
The protective canopy of the Storm SRD280 V4 is not just a plastic shell add-on, it's actually part of the frame structure. The futuristic canopy is available in many color combinations and painting designs.
SRD280 V4 Upgrade Highlights
50 g lighter than its predecessor;
BeeRotor BRF3 flight controller with BetaFlight instead of CC3D FC;
New generation Storm Spear M2207-2000kv motors and Storm Raptor 390 30A ESCs;
Better 5.8G Storm FX799T 200mw VTX with Raceband;
OSD (On Screen Display) with battery voltage and current meter;
More thrust thanks to the HQ 6 x 4.5 direct drive propellers;
Brighter LED status bar (2 x 8pcs of WS2812B LEDs on the rear arms).
On each rear arm there is a programmable 8LED status bar. They will give you a clear view on the position of the aircraft and its main status (of course this feature is handy only during LoS flights). By default, Green is motor locked, Blue is motor unlocked and Red is low battery level.
In case of accidental crashes, the built-in buzzer will help you to find your precious FPV quad more easy (read my fly away tips).
Thanks to the multiple flight modes and speed rates, the Storm racing drone SRD280 is suitable for newbie pilots as well as for the skilled ones.
Through the RadioLink AT9 transmitter's "G switch" you can toggle between "Angle", "Horizon" and "Rate" flight modes.
Storm SRD280 V4 features and specs
3 different flight modes (Angle, Horizon and Rate) and 3 speed rates (Low, Medium and High);
BeeRotor BRF3 flight controller with BetaFlight firmware (

configurator here

);
Built-in OSD (Battery voltage and current, Flight time and Flight mode);
Protective canopy (endless color combinations and design possibilities);
Powerful brushless motors;
Storm Raptor 390 30A ESCs;
6 inch direct drive propellers;
Foxeer HS1177 FPV CMOS Camera (90° angle view);
Storm 5.8Ghz FX799T 200mw Video Transmitter (VTX);
TBS Triumph FPV Antenna;
Built-in buzzer;
Dimension : 230mm x 245mm x 110mm;
Total weight: 608g (including flight battery).
RTF Package content (in bundle with radio)
Fully Assembled Storm SRD280 V4 drone with protective canopy (color of your choice);
FPV System (Foxeer HS1177 600TVL Camera and FX799T 200mW 5.8G VTX);

RadioLink AT9 transmitter

(DSSS, 9channels);
14.8V 1300mah 65C Li-Po battery;
SKYRC E4 battery charger;
12 pcs of se HQ 6 x 4.5 direct drive propeller (6 x Clockwise and 6 x Anti-Clockwise);
2.0mm Hex Wrench;
8mm Hex Nut Driver;
5.5mm Hex Nut Cross Wrench (for airframe);
SRD280 Stickers (Black and White);
Velcro bands for battery.