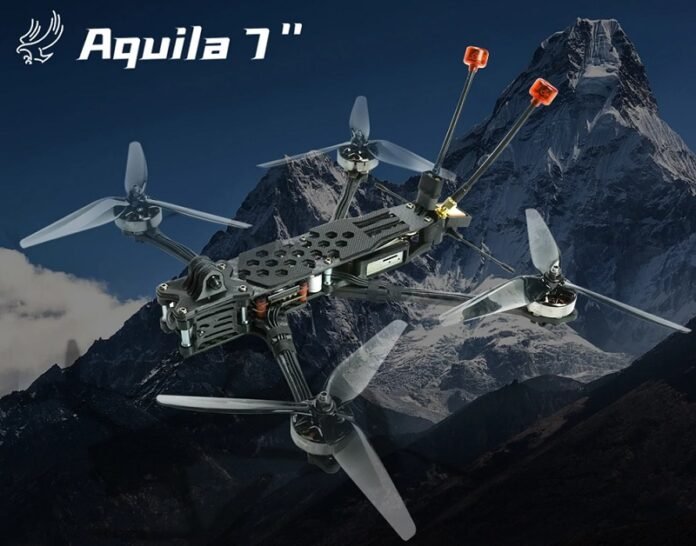 The STPHobby Aquila 7″ is built on a robust 295mm size carbon fiber frame. Seven-inch FPV drones can provide better flying feel and larger load, can mount a larger battery, improve battery life better compatibility, have a variety of action camera mounts, easy to deal with special design structures to reduce vibration in flight and make the flight more stable.
STPHobby Aquila 7 is available with two FPV options. While the analog edition comes with CADDX Ratel2 camera and RUSH SOLO high-power 5.8GHz VTX, the HD digital edition with DJI AIR UNIT.
Designed for long-range flights it comes with an onboard GPS module. The Blade F722 flight controller is matched with a 4in1 50A ESC board.
STPHobby Aquila 7″ features and specs
295mm size robust carbon fiber frame;
Analog and HD Digital FPV versions;
BLADE F722+50A Sport flight-stack;
RCinpower SmooX 2806plus brushless motors with HQ 7*3.5*3 propellers;
Beitian BN-220 GPS module;
DJI AIR UNIT (Digital Edition) / Analog Edition CADDX Ratel2 camera
DJI AIR UNIT VTX (Digital) / RUSH SOLO (Analog) 5.8GHz VTX;
Rush Cherry FPV antennas (1/2);
Compatible with a wide range of action cameras including GoPro and DJI Action.