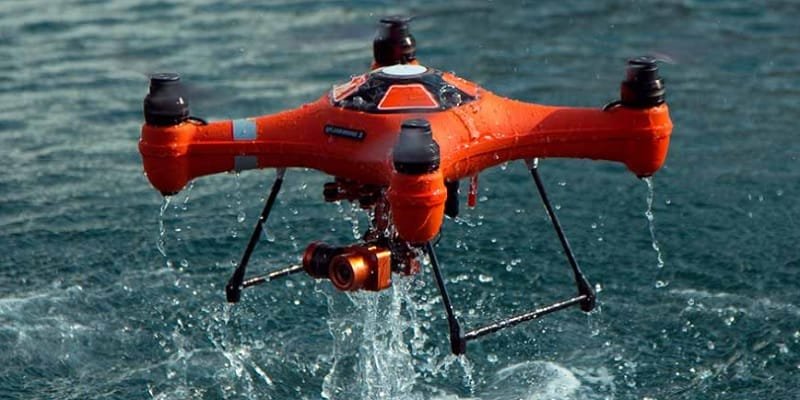 The SwellPro Splash Drone 3 don't just fly, it can also float and film underwater. Both, 2-axis gimbal and 4K camera can be immersed in water allowing to record incredible footage bellow the surface of the water. The dream of any fisherman :D
When it comes about flying over a lake, I'm always afraid of what happens if the drone falls into the water. If the water is deep, you can lose forever your precious quadcopter including your micro SD card with the recorded videos.
The Splash Drone 3 is IP67 rated, which means you can fly on almost any weather condition, whether it's raining or snowing – of course strong wind is still your enemy.
Thanks to the versatile flight controller, the SwellPro Splash 3 features intelligent flight modes. The Dual mode GPS positioning system uses up to 24 satellites as well as Glonass for improved accuracy.
Compared to its predecessor, this 3rd generation Splash drone comes with a redesigned transmitter with built-in 5″ LCD display. The generous color screen allows to display the camera's real-time image feed as well as OSD information.
Splash Drone 3 features and specs
Fully waterproofed drone (aircraft, gimbal and camera);
Reinforced 3 mm ABS fuselage;
Free of corrosion in both fresh and salt water;
Compliant with

MIL-STD 810

;
Payload release mechanism (up to 1Kg);
All-in-one transmitter with built-in 5″ FPV/OSD status screen;
Powerful 620kv brush-less motors with quick release propellers;
S3 flight controller with dual-GPS positioning system;
Intelligent flight modes (Follow me, Mission planning, Tap to fly);
Fail-safe features (auto-return to home and land);
Camera with 1/2.3" CMOS image sensor and audio recording;
4K UHD video at 25 frames per second and 14MP still photos;
2-axis brushless gimbal;
HD real-time image transmission (FPV);
Up to 16m/s flight speed;
1KM control range;
About 16 minutes of flight autonomy;'
3 Kg maximum take-off weight.
Video review of the Splash Drone 3
Credits to Sarion Films
Swellpro Splash Drone 3 package content
Aircraft with 2axis gimbal and 4K camera;
Transmitter with integrated FPV screen;
4 cell flight battery;
2 cell battery for remote controller;
Balance battery charger with cables;
Ground station;
Micro USB cable;
Carry case;
Spare parts (screws).