The Topsky Prime1S is a 4:3, 80 degree field-of-view FPV goggles. It features dual 2.4″ LCD screen with 640 x 480 pixels. It allows to adjust IPD as well as diopter. Excepting a HDMI input it has all the features that could you can expect from a $100 FPV glasses. Frankly, this new FPV headset looks pretty cool on paper and I hope to get one for review.
In order to allow excellent signal reception, TOPSKY Prime 1S features integrated 48CH/5.8G diversity receiver. It comes without antennas, so you will need to use yours.
Thanks to the integrated DVR, you can easily record the journey of your FPV flights. Furthermore, it has AV-in which allows to connect a FPV camera directly to the goggles. This way you can toggle between drone and pilot POV.
According to the advertised specs, the 5V 2000mAh battery allows about 1-2 hours of continuous usage. The battery can be conveniently recharged through the micro USB port.
TOPSKY Prime1S features & specs
Dual 2.4″ LCD screens (640×480);
Integrated 48CH/5.8G diversity receiver;
Built-in DVR module (support up to 32GB micro SD card);
Self-powered (integrated battery);
Adjustable Diopter & IPD:
Interpupillary distance range 58-72mm;
RGB color correction for a briliant view;
Adjustable optics -0.00 to -8.00,and achieve the best visual focus up to +8;
AV-IN and Headphone jack;
LOW battery alarm.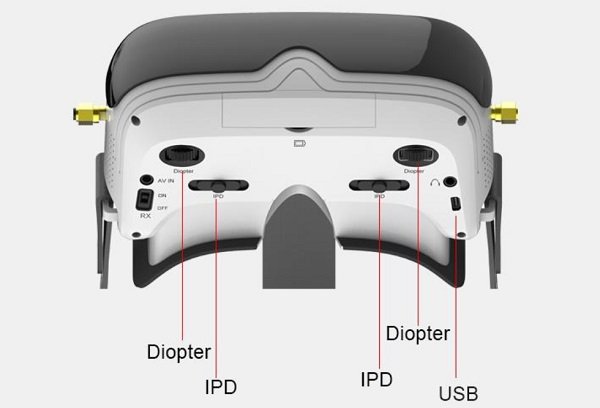 Included accessories with the TOPSKY Prime 1S goggles
USB charging Cable;
Eye patch;
Glasses cleaning cloth;
Bandage;
English manual.