Today, I will introduce you the newly announced UPair 2 Ultrasonic I drone. Compared to its predecessor, the second generation UPair quadcopter comes with lots of new features. Furthermore, it brings extended flight time and longer control rage. While the UPair One (aka UP Air Chase) has only 19 minutes flight time and 1KM flight range, the UPair Two will have up to 24 minutes airborne time and 2KM control distance.
Even if you are not an expert, you will notice something unusual about its camera, it doesn't have one, but 3 lenses! In case of phones, the multiple lens system usually allows faster focusing and even 3D capability. In order to allow smooth cinematic aerial filming, the 4K camera is hanged on a 3-axis motorized gimbal.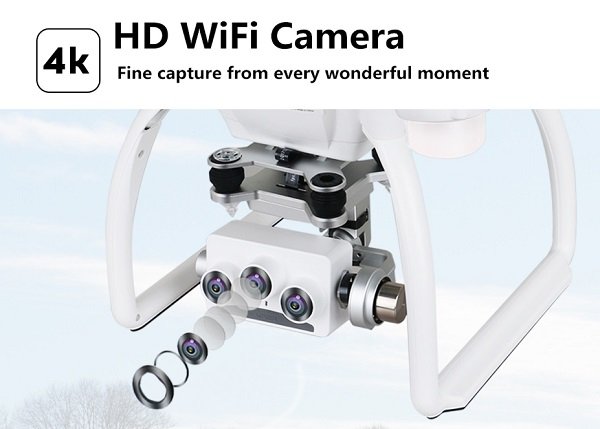 UPair 2 Ultrasonic I features & specs
Precise GPS system;
Optical flow positioning for stable indoor flights;
Smart flight modes (like Follow Me);
Fail-safe auto return to home (RC signal loss or Low battery voltage);
Triple lens 3D 4K camera w/ 1/2.3″ CMOS image sensor;
Up to 3840 x 2160 video resolution and 16MP (4640 x 3480) photo resolution;
5G WiFi real-time image transmission (480P resolution);
3-axis motorized gimbal;
About 2KM control distance;
Up to 24 minutes flight time.
Thanks to the fail-safe auto return to home feature, the UPair 2 quadcopter will autonomously return to the take-off point (good GPS coverage required) on RC signal loss or low battery voltage.
Included accessories with the UPair Two drone
Remote controller with phone holder;
4S/5100mAh flight battery;
Charger adapter;
2 sets of propellers;
USB Cable.