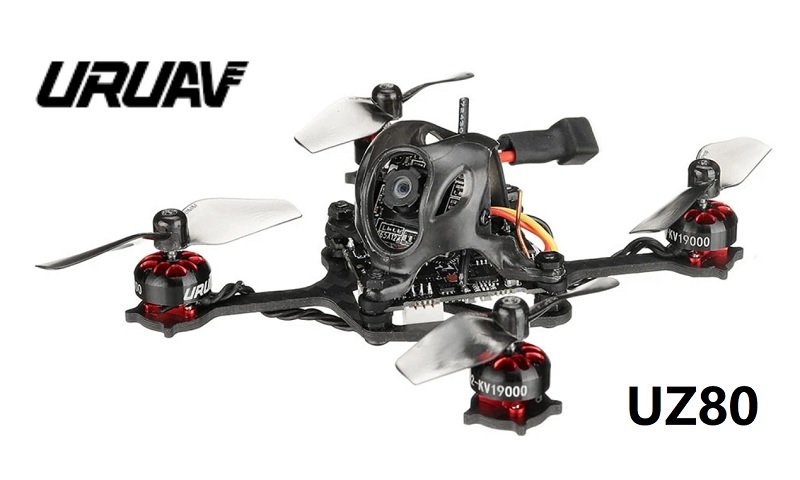 The URUAV UZ80 is an affordable DIY FPV drone. The kit includes all the accessories you need to build your micro racing quadcopter. All the electronic parts come with connectors so no soldering required.
The unibody frame has an 80mm wealbase. All the electronic parts including the Runcam Nano 3 FPV camera. Weighs about 20 grams fully assembled but without a battery. According to the advertised specs with a 250mm battery you can have about 3-4 minutes flight time and with a 650mAh one, up to 9 minutes playtime.
Its CRAZYBEE F4 Lite all-in-one flight controller comes with an integrated 5A ESC, 25mW 5.8GHz VTX, and radio receiver. You can opt between FrSky and FlySky edition. The tiny 19000KV brushless motors are equipped with 40mm 2-leaf propellers.
URUAV UZ80 features and specs
Easy to build DIY micro FPV drone kit (no soldering required);
Toothpick stye 80mm carbon fiber frame with nylon protective canopy;
Weighs only 19.5 grams without a battery;
CRAZYBEE F4 Lite AIO flight controller w/ integrated 5A ESC, Frsky\FlySky receiver, and 5.8GHz 25mW VTX;
0802 19000KV brushless motors with HQProp 40mm 2-Blade propellers;
Runcam Nano 3 FPV camera;
1S battery compatible (~ 9min flight time with 650mAh battery).
FPV footage quality