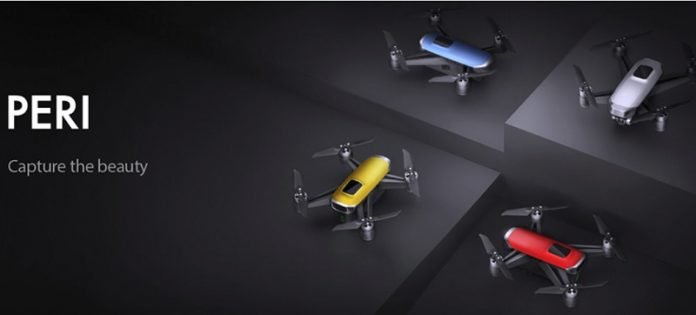 It seems that finally Walkera strikes back, their PERI drone is a worthy competitor for the DJI Spark. Like its contender, Walkera PERI will be also available in 4 outstanding colors (Red, Orange, Silver and Blue).
Walkera claims that Peri is equipped with world's smallest three-axis mechanical PTZ gimbal. Peri's camera allows to capture aerial footage with resolutions up to 3840 x 2160 at 30fps. In addition to the outstanding video capabilities, the camera features Full HD (1Km/1080P) wireless video transmission.
Peri's panorama mode allows you to capture awesome 720° aerial videos and photos.
In order to achieve precise and flexible flight, the dual-mode satellite navigation is paired with optical flow positioning and IR height sensing modules.
According to the manufacture's specs, the 7.4V 2500mAh LiPo battery allows up to 15 minutes of flight autonomy. Not bad for such a small drone.
What we know about the Walkera PERI (features and specs)
Compact size, 185mm wheelbase;
Powerful brushless motors;
Multiple flight modes (Active Track, Panorama, Rocket, Dronie aka Selfie, Helix, Gesture and Time-Lapse);
Dual satellite positioning system (GPS and GLONASS);
Combined optical flow positioning with infrared altitude hold (indoor) fly system;
4K camera (4K@30fps and 1080p@30fps);
13MP photo resolution;
3-axis mechanical gimbal;
HD WIFI image transmission (1KM@1080P);
10 meters/s max flight speed;
Up to 15 minutes of flights time;
Variety of Colors: red, orange, silver and blue.
Walkera Peri can be operated via phone APP, but also via a dedicated remote controller. The DEVO-F8S transmitter allows up to 1Km control range. Note: in most countries it's illegal to fly out of sight.
Walkera Peri capture the beauty
What you get for $499:
Walkera PERI RC Drone;
DEVO-F8S or DEVO A8 remote controller
7.4V 2500mAh LiPo battery;
Battery charger;
1 set of spare propellers;
User guide.