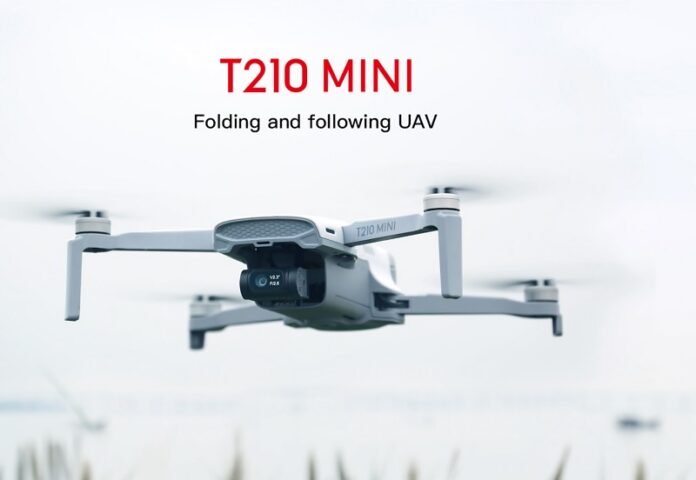 The new Walkera T210 Mini resembles the 5-year-old DJI Spark's design. To be more portable, they replaced the fixed arms with foldable ones. In the past, Walkera was mainly focused on FPV drones and reviewed some of their models.
With folded arms measures 143*82.8*57mm and a take-off weight of 430 grams. It comes with two controller options. While the WKRC-H9 adopts a two-stick standard design, the WK-V8 Somatosensory one-handed voice controller with a built-in screen is something new on the market. The WK-G13 FPV Goggles make your flight with the T210 Mini drone even more immersive.
According to Walkera, the T210 quadcopter supports up to 4.5KM maximum 2.4G long-distance video transmission and has strong anti-interference capabilities,
flying with more stable and reliable transmission. Thanks to the lightweight fuselage design and 2200mAh high-capacity intelligent battery, the maximum flight time is up to 31 minutes.
The Walkera T210 Mini has a 3-axis gimbal and a 4K camera capable of recording 3840*2160(4K)30fps or FHD:1920*1080 30fps/60fps videos. It features a SONY 12MP 1/2.3 inch CMOS sensor and a 4.4mm f/2.8 lens with an 85° field of view.
Pricing, availability, and options
The Walkera T210 can be ordered from Banggood in four package options with a starting price of US$369.99. The Deluxe kit with both remote controllers and two flight batteries is offered for $629.99. All variants include a set of spare propellers, a protection guard, and a USB charger
Standard BNF
RTF with RC
Sports Tracking Play
Deluxe set
1x T210 Drone
1x Body battery
1x Spare propeller(set)
1x Propeller protection guard(set)
1x USB charging cable
2x Screwdriver
1x Charger
1x Manual
1x T210 Drone
1x WKRC-H9 Remote Controller
1x 32G SD Card
1x Body battery
1x Spare propellers(set)
1x Propeller protection guard(set)
1x USB charging cable
2x Screwdriver
1x Charger
1x Manual
1x T210 Drone
1x WK-G13 FPV Goggles
1x WK-V8 Smart Voice Controller
2x Body battery
1x 128G SD Card
1x Spare propellers(set)
1x Propeller protection guard(set)
1x USB charging cable
2x Screwdriver
1x Charger
1x Manual
1x T210 Drone
1x WKRC-H9 Remote Controller
1x WK-G13 FPV Goggles
1x WK-V8 Smart Voice Controller
2x Body battery
1x 128G SD Card
1x Spare propellers(set)
1x Propeller protection guard(set)
1x USB charging cable
2x Screwdriver
1x Charger
1x Manual
$369.99
$404.99
$594.99
$629.99
Features and specs
Lightweight with foldable design;
Dual control options;
Max flying Speed:

GPS mode: 5m/s
Sports mode : 12m/s(Adjustable)
Altitude mode: 25m/s

4K 3-axis stabilized camera;
Intelligent flight modes;
Up to 31 minutes of battery life;
About 5KM flight distance;