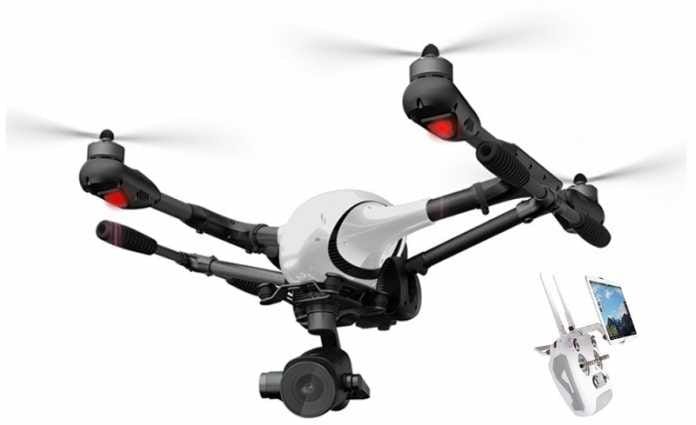 Walkera VOYAGER 4 quadcopter can spot you 2 km away
Usually drones are equipped with prime lenses and only proffesional models like this Walkera VOYAGER 4 have zoom lenses. This feature allows to focuse on small spots from the sky. I know guys, you already started wondering about how you could spy the girls from the neighborhood :D
In my opinion Walkera wanted to offer through this VOYAGER 4 a trustworthy competitor to the DJI's flagship model, the Inspire 1 Pro.
Compared to the DJI Zenmuse Z3 which has only 7x optical zoom, the Walkera VOYAGER 4's camera has 16x zoom. Unfortunately, the camera has only Full HD (1080p) video resolution and doesn't have 4K like all the actual high-end drones.
Adopting retractable landing gears and 360 degree yaw rotation brushless gimbals, you have all the support to capture some amazing aerials.
In order to allow intelligent flight modes (like waypoints mission), this Walkera model features dual positioning system (GPS and GLONASS).
The Voyager 4 quad can be configured to operate over its own Wi-Fi network or to use 4G GSM internet giving it roughly unlimited control range.
Walkera decided to deliver this drone together with their latest F18 transmitter, which not just that has excellent control range but also has many aerial filming orientated features.
Walkera VOYAGER 4 quadcopter highlights
Retractable landing gears;
High-performance brushless motors;
Dual positioning system (GPS and GLONASS);
Robust ultra-light design with carbon fiber elements;
3-axis brushless gimbal;
Intelligent flight battery;
Full HD camera with 16x optical zoom;
HD real-time image transmission;
Powerful flight APP;
Multiple flight modes (like: Waypoints mission and Fly around);
Aerial filming dedicated transmitter.
Walkera VOYAGER 4 specs
Max pitch angle: 35 degree;
Max ascend speed: 5m/s;
Max descend speed: 4m/s;
Max flight speed on level direction: 20m/s;
Maximum flight altitude: 1 km;
6s 4500mAh smart flight battery;
Flight autonomy: up to 20 minutes;
About 1.5 Km control distance;
16x optical zoom camera with 1080P@30fps recording;
3-axis brushless gimbal (Pitch:-90°~+30° yaw:±90°);
Wheelbase: 58 cm;
Max size: 466 x 464 x 367 mm;
Total weight: 3200g
Included with the VOYAGER 4 drone
Full HD camera with 3- axis brushless gimbal;
F18 transmitter;
Mobile device holder;
Flight battery (22.2V 4500mah);
1 set of propellers;
USB data cable;
Battery charger;
User manual.
Images with the VOYAGER 4 quadcopter