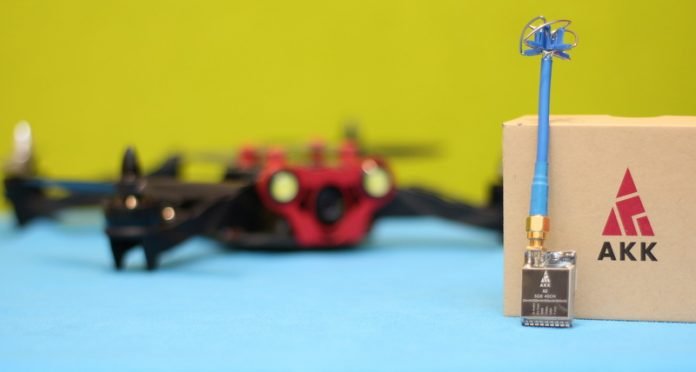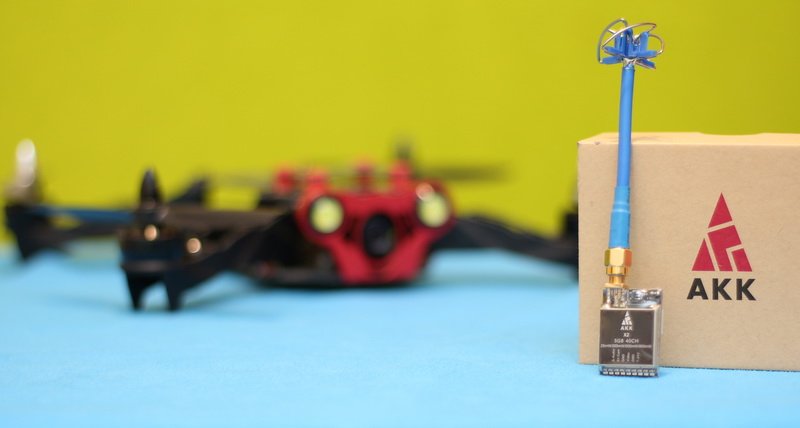 Since the first FPV drones, VTXs evolved a lot. They became smaller and more powerful. In addition to the compact size and up to 800mW broadcast power, the AKK X2 comes with Smart Audio. This means that you can configure the AKK X2 remotely via your transmitter.
Currently, there are two approaches supported by BetaFlight OSD to control the VTX, Smart Audio and Tramp Telemetry. Even if the technical details of each protocol are different, they do approximately the same thing in a nutshell.
AKK announced the X2 VTX in 3 versions. According to the antenna connector type, you can opt for RP-SMA Female or MMCX. Third version (aka X2P) comes with pre-soldered pigtail antenna cable.
AKK X2 VTX features and specs
Super mini size (28.5 x 20 mm) and lightweight (6.8 grams);
Adjustable broadcast power (25, 200, 500 and 800 mW);
Wide range of input voltage (7 ~ 24 v);
Configurable through BetaFlight OSD (VTX Telemetry);
One button for frequency and power setup;
Built-in microphone;
Integrated 5 v BEC (DC to DC converter step down module) with up to 300 mA;
Available with MMCX or RP-SMA Female connectors.
Hands-on review of the AKK X2 5.8G VTX
Disclosure: I received this AKK X2 VTX as part of a product review collaboration with AKK. Although the product was offered free of charge, all opinions in this review are my own.
Package arrived 3 weeks after we agreed on the review. Inside the box, besides the VTX module, I found a servo cable and "user manual". By default, there is no antenna included, therefore I asked the manufacturer to include in the box a pair of 5.8G four-Leaf antennas.
AKK LB2 / LB1 antenna technical specifications
Type: four-leaf mushroom;
Polarization:Circular Polarization Right-Handed (RHCP);
Gain: 5 dBi (50 Ω impedance);
Frequency range: 5.8 Ghz;
Adjustable direction;
Stable signal transmission.
VTX measures 28.5 x 20 mm and weights about 6.8 grams. By comparison, it is much smaller than the less powerful Eachine TS835 600 mW video transmitter.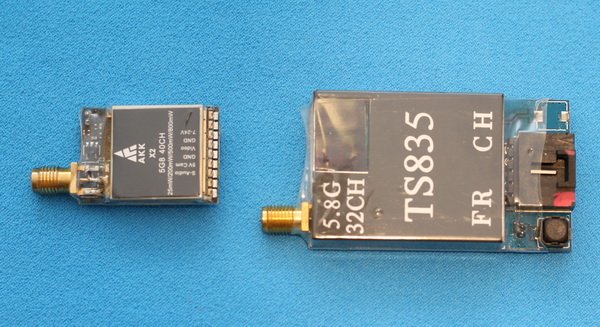 Front part of the AKK X2 is very clean, you can find only the encapsulated VTX module. On the rear part you can find the followings: microphone, control button and seven-segment status display.
The only control button allows to change channels, bands and output power. While by short-pressing it you can toggle between 8 channels, by long pressing (for 2 seconds) you can toggle between 5 bands. Changing the broadcast power can be done by pressing 4 seconds the same button.
Since it features "Smart Audio", all the above mentioned settings can be done also remotely through your transmitter and a FPV monitor. BetaFlight OSD can be accessed by moving in the same time the left stick to center-left position and the right stick to center-up (as shown in the image belove). After you're in the menu, you need to select "VTX SA".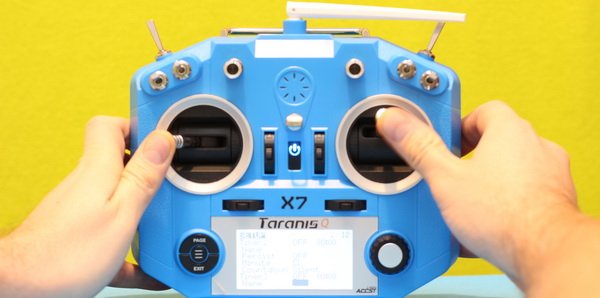 While on the end to the VTX the included cable has a 6 pin connector, on the other end has two connectors: JST for power and a 4 pin connector for camera.
AKK X2 pin out / wire coding (left to right)
Red (JST plug) – DC in (7 – 24 v);
Black (JST Plug) – Ground / GND;
Yellow – Video In;
White – Video ground;
Red – Power for the camera (5 volts);
Green – Smart Audio (goes to UART TX port of the flight controller).
How does AKK X2 affect the image quality?
A decent VTX should never have any negative impact in therms of image quality. Colors, contrast, sharpness and WDR (Wide Dynamic Range) are dependent only on how good is your camera.
I tested the AKK X2 VTX with two of my FPV cameras (RunCam Owl Plus and Foxeer HS1177 V2). In both cases the overall image quality was not affected by the VTX (of course RF noise will be added to the live-feed). BTW, it seems like the microphone is not working.
Range aka do you need 800 mW broadcast power?
First of all, 800 mW is a bit overkill, especially that in most countries it is totally illegal to operate on such high power. For example, in my knowledge, in Europe you would not be allowed to exceed 25 mW. Based on my experience, for proximity park flying and drone races you will never need more than 25~100 mW.
According to AKK Technology, at full power, X2 with omnidirectional RHCP antenna provides up to 4 km FPV range. This means far beyond your line of sight (LoS), which is also illegal in most countries, including US.
During a racing drone competition where in the sky there are plenty of drones, due to the limited individual channels, powering ON a 800 mW VTX can blow up the fun of many pilots. This is why it is so important to enable the auto "Pit-stop" feature (if is available).
Just to be clear, besides the broadcast power of the VTX, range can be also affected by many other factors like:
Buildings, trees and other high things;
Environmental RF noise;
Sensitivity of the receiver;
How good are the antennas (RX and TX).
My plans with the AKK X2 VTX
I already started to look for parts in order to build  DIY 210 mm FPV drone. I want to use this VTX and a F4 flight controller. You can check my wiring diagram bellow. BTW, do you have any suggestions for some good and affordable brush-less motors?
Editor's ratting
Price/value ratio

Design and build quality

Features

Range
Verdict
In conclusion, the AKK X2 is a fairly priced VTX with compact size and nice features.
I would recommend it for DIY FPV drone builders as well AS for those who need extended FPV range and/or SmartAudio (VTX telemetry) feature.
The X2 VTX can be found here for $17.99 (including free shipping). Compatible 5.8G antennas are available from $6.99.
Pros
Compact and lightweight;
Adjustable broadcast power (25, 200, 500 and 800 mW);
SmartAudio / VTX telemetry;
Integrated 5V BEC (DC to DC converter) to power up the camera;
Cons
Can't work with 1s Li-Po batteries;
Microphone is not working;
Could be included more type of servo cables.