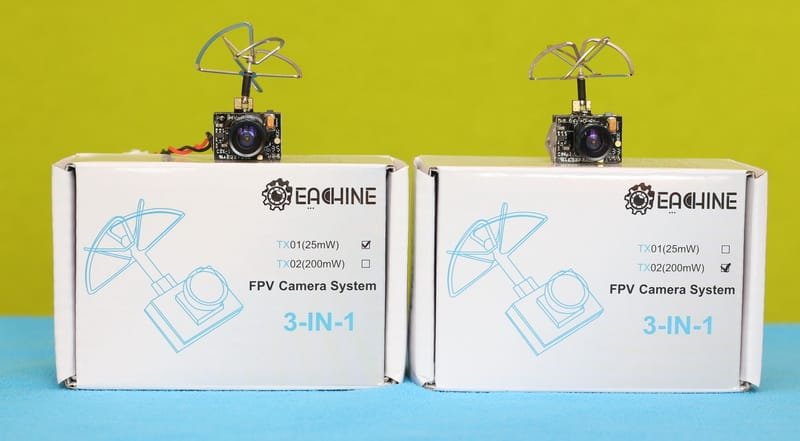 Review of the super mini Eachine TX01 and TX02 FPV cameras
Few weeks ago when I reviewed Eachine's first AIO FPV camera I was surprised by its small size. Now they did it again, the Eachine TX01 and TX02 are even smaller. These two new FPV cameras are specially designed for small brushed drones. Through the TX01 FPV camera it seems that finally Eachine managed to offer a direct competitor for the popular FX797T camera and only for about half of its price.
If the Eachine MC02 with its 9g proved to be too heavy to be installed on my Eachine E010, I think the TX01, having only 4.5g, will be just perfect for turning the E010 Mini into a Tiny Whoop.
Apparently the only difference between the TX01 and TX02 is the output power. While TX01 has 25 mW, the TX02 has 200 mW. This should not fool you, theoretically 200 mW should give you only about twice the range compared to the 25 mW. In my opinion, for indoor flight and proximity park flying will be just perfect the Eachine TX01. It is also a bit lighter and consumes less power.
Unlike the MC01 and MC02, the TX02 and TX01 can be powered only from 1s Li-Po batteries. The input voltage should not be over 5 volts!!!
Eachine TX01 and TX02 review
Like my other Eachine cameras, these two FPV cams were also offered by the courtesy of Banggood in order to make a honest review. Thanks again for their continuous support.
As I previously mentioned, the TX01 and TX02 are very similar, even the box content is identical. Both came with lens cap, pre-soldered power cable, cable adaptor (2 pin Pico blade male to micro-LOSI female) and instruction guide. The cameras are well protected during shipping by two pieces of foam. Unfortunately, the package does not include a "Y" (2 Way splitter) cable that allows to easily power both aircraft and camera from the same battery.
The size of these two tiny FPV cameras is the same (19 x 7 x 13 mm – without antenna), the TX01 weights about 4.5g and the TX02 4.7g. The nickel-plated 4 lobe antenna is directly soldered on the top of the camera's TX board.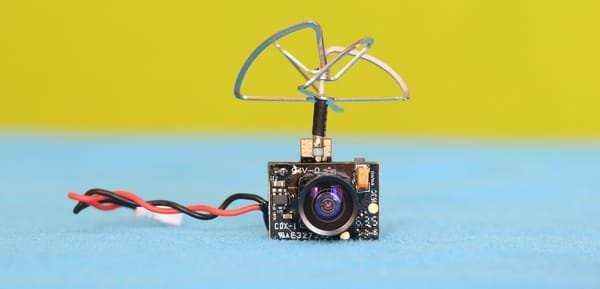 Both cameras have the same shape and layout. A 7 segment LED display is located on the rear and a single control button is located on top. By shortly pressing the micro push-button you can change the CH number (1 – 8) and by long pressing can be changed the band (A, b, E, F, r). By pressing the button for about 10 seconds can be switched ON/OFF the TX module.
Although the blue LED display looks pretty good, I found it useless because I do not change FPV channels too often. Don't mention that adds extra weight and power consumption.
As I previously mentioned, the power cable is pre-soldered (frankly, I would have preferred a connector). In order to prevent detachment of the power cable, it is secured with some black glue.
Eachine TX01 & TX02 features and specs
3 in 1 design (camera, 5.8G TX and antenna);
One button control;
Works with 1s Li-Po battery (3.3-5V input voltage);
Non-volatile memory for storing CH and Band number;
7 segment status display;
4 lobe right hand circular polarized 5.8G antenna;
Output power: 25 mW on TX01 and 200 mW on TX02;
40CH 5.8G wireless video transmission (including raceband);
NTSC video format;
Resolution: 600 TVL (720 x 480);
Image sensor: 1/4″ CMOS;
120 degree viewing angle;
Minimum illumination: 1 lux;
Size: 20 x 13 x 6mm (according to the manufacture's specs);
Weight: 4.48g (TX01) and 4.57g (TX02).
Eachine TX01 & TX02 review – Test
In order to test the camera I used a 1cell 600 mAh battery from my Syma X5C and the Eachine LCD5802S FPV display. I powered the camera through the included power adapter cable.
By default, the VTX is set to channel 1 and band A. Changing the channel/band can be easily done and it is stored in non-volatile memory, so you don't need to set it every time you connect the camera to the battery. The display permanently shows the channel number, band and TX status.
Unfortunately the focus point of the camera cannot be adjusted (by rotating the lens) but don't worry, it is set very well by the manufacturer.
The image quality is decent for such a tiny FPV camera. In my opinion a bit better contrast would make even more enjoyable the live-video feed.
I got about 180 meters range with the Eachine TX01 and about 320 meters with the Eachine TX02 (both in open field). I think this is quite good and the Eachine TX01 will be just perfect for micro quads like the Eachine E010.
Using a 5V BEC (DC to DC step-down converter) you can adapt these FPV cameras to work even with 6s Li-POs.
Eachine TX02 RAW video captured with miniDVR (in a foggy day).
Price/value ratio

Design and build quality

Performance and image quality
Summary
In my opinion, the biggest advantage of these two Eachine AIO FPV cameras over the FX797T/FX798T is the extremely friendly price.
The image quality of both TX01 and TX02 is pretty good without noticeable interference with the brushed motors.
My only disappointment regarding these two micro FPV cameras is the lack of a Y power cable. This cable would have made the commissioning much more easier.
For those who are interested to build their own micro FPV drone or just upgrade an existing one, the TX01 with 25 mW transmission power can be ordered from here and the TX02 with 200 mW from here.
Eachine TX01 and TX02 review – Photo gallery
Pros
Extremely lightweight;
Suitable for low voltage systems (1s Li-Po);
Decent image quality;
Cons
Power wires are soldered instead of using a connector;
No mounting accessories.
Eachine TX01 review – Image gallery
Eachine TX02 review – Image gallery
Sponsored post by BG